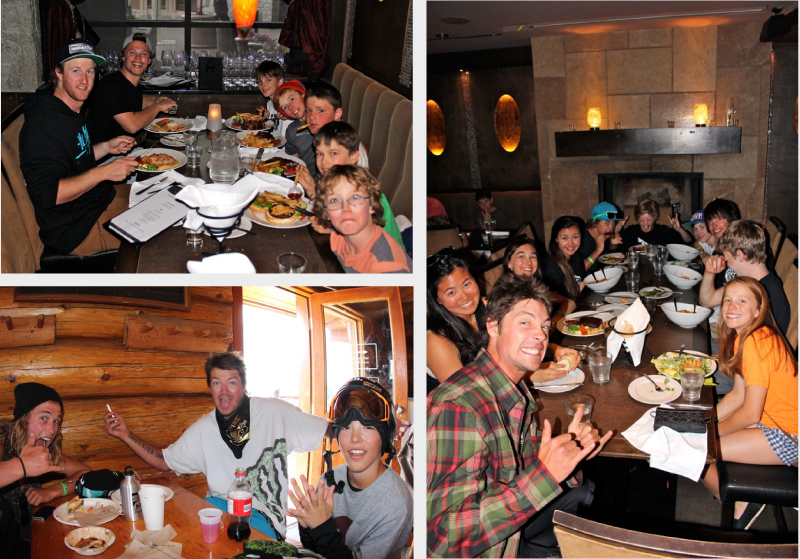 Full-package campers enjoy 3 meals a day, plus a morning snack. We can cater to vegetarians or people with special diets – just let us know in advance.
Breakfast
On ski days we start with breakfast at Merlin's, which is right at the base of Blackcomb's Wizard Express chairlift. Breakfast is served in an all-you-can-eat buffet style and features an assortment of hot foods like pancakes, French toast, bacon, eggs and sausages. You'll also find yogurt, cereal, muffins, fresh fruit and several juices.
Morning Snack
You will pack this with you when you leave in the morning and includes a piece of fresh fruit and Clif Bar. We have lemonade available up on the mountain. About halfway through your ski day it'll give you the energy to keep going. You should also bring a full water bottle and make sure you drink it by the end of the day.
Lunch
Lunch is served buffet style at the Horstman Hut at the very top of the mountain with an assortment of deli sandwiches, hot soup and tasty desserts, as well as BBQ burgers on the patio where you can enjoy breathtaking views of the surrounding mountains.
Dinner
Evening meals are served between  6:30pm – 7:45 pm and you'll eat at a different restaurant in Whistler each night, ensuring you get a good quality meal and can hang out with your friends, coaches and camp staff.
Day Off
On our day off in the longer sessions we eat breakfast at Black's Restaurant, which is only a few minutes walk from the hotel. They serve breakfast late so you have a chance to sleep in! We provide a bagged sandwich lunch at the hotel that day.
Final Night
Our final PIZZA party and Awards Ceremony/Prize Giving for Youth camps is held at a nearby park. Everyone goes home with a prize from one of our many sponsors and we also have a draw for a pair of Armada skis.
Note that on travel days no food is provided as everyone leaves/arrives at different times, so campers should buy some snacks the night before if they have an early departure time.
Adult Session evening meals take place after video review and are upgraded and longer, offering a 3 course set menu and a chance to relax, socialize and meet your fellow campers and coaches.