Words cannot express the deep deep sorrow we feel at the news of Sarah's tragic death. She was one of our most talented campers and grew into one of our most loved coaches. She was an inspiration to everyone. The world will be an emptier place without her positive spirit and she will be sorely missed. We send our heartfelt wishes to Rory and her family.
A Tribute to Sarah Burke 1982 – 2012
Momentum Camper (97-00) / Momentum Coach (01 – 11 – She will forever inspire)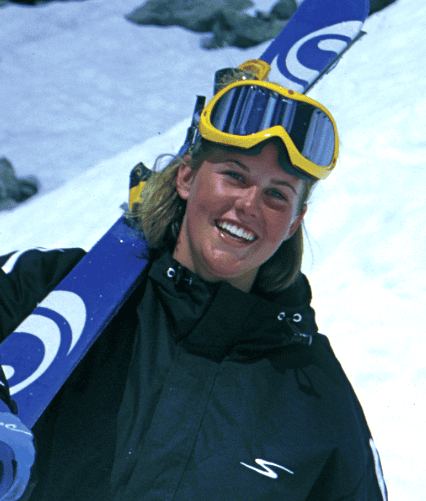 Sarah – Summer 2000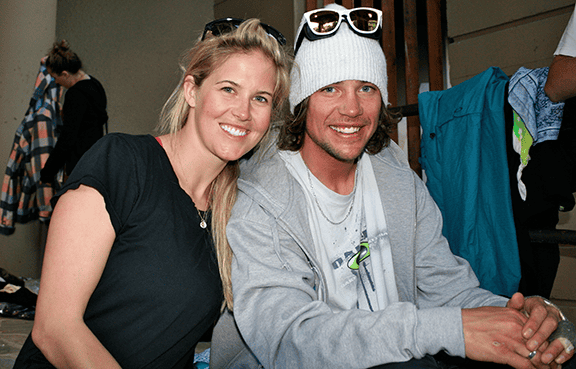 Sarah and Rory – Summer 2011
John Smart: 
"Sarah your smile will never die, this is how I met you and this is how I will never forget you. Your powerful energy and spirit will also live forever in the thousands of people who were lucky enough to know you. Your heart is in all of us, a part of us that I will never stop sharing."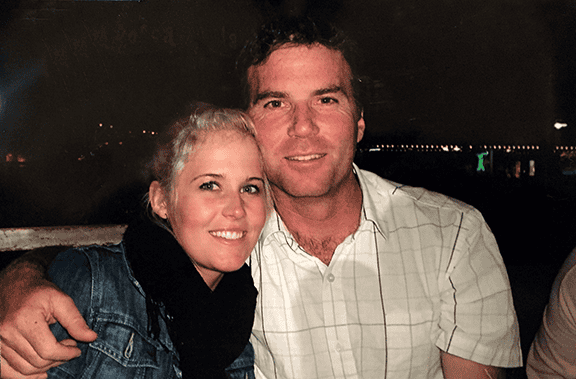 Sarah and John
We asked our campers to share their memories of Sarah, and how she touched their lives…
Feel free to send us your memories so we can add them to this page.
Mitchell Balog:
"Three years ago Sarah was my coach at Momentum. She was possibly the best coach I ever had while I was there. Throughout the day she was always willing to help out anyone no matter who they were or how young they were. But the number one thing I remember about her was at the end of the day and we were downloading. She came with us across the Peak to Peak shared some stories and had some laughs."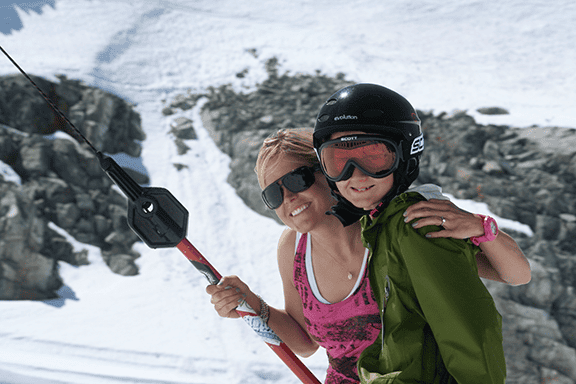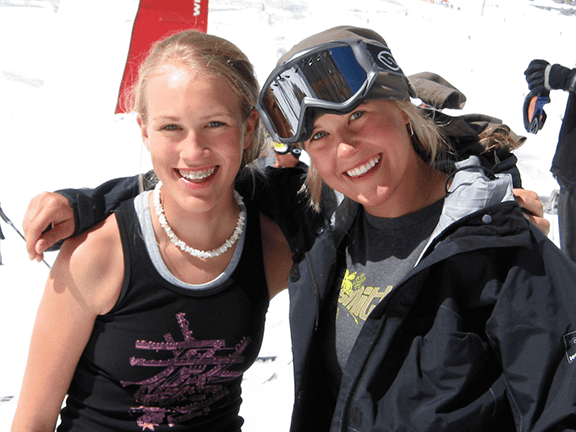 Graeme Garner:
"This summer when I was at session 3, I got the chance to meet Sarah. She wasn't my coach, but I rode the T-bar with her a few times and she even signed my underwear for the scavenger hunt! I have never met someone who smiles more than she did. I remember when I was on the T-Bar with her and she asked me who my coach was. When I told her that I had Chug for the day, she gave me the five dollars that she owed him for me to pass on, as well as a message. "Tell Chug the cherries were delicious. Oh, and the bill is ripped. I'll just fold it up so he doesn't notice! Don't tell him, though." She smiled and winked at me, then gave me a high-five and skied away to meet with her group. Later that day, I went to get my hoodie signed by her and she brightened up with joy when I asked her. She signed S Burke with a heart right above my heart, so now every time I wear that hoodie, that is where she will be. I'm sure the same goes for everyone who had the privilege to meet her, and even those who admired her talent and strength from a distance. I knew her for only a 3 minute T Bar ride, but it will be one of the memories that I cherish for the rest of my life."
Amber Amin:
"As a camper, I was nowhere near being one of the better park skiers. I went during girls week and the day she was coaching me, she started off the session by telling us that we should never let the boys cut us off or make us feel inferior or that we don't belong. She is a symbol of female empowerment, and will forever serve as an inspiration to women in the skiing world. She had so much patience for my cautiousness and shared in my triumphs when nailing new tricks. The patience, persistence, encouragement and enthusiasm displayed by an athlete as advanced as she was, while coaching a humble beginner is a testament to her passion for sharing the sport with others. Her love for skiing was infectious and by the end of the session, she had taken my confidence as a skier to a whole new level. Sarah Burke has forever changed the ski industry and although her physical being may no longer be with us, her legacy lives on through all those who have been in some way or another, touched by her."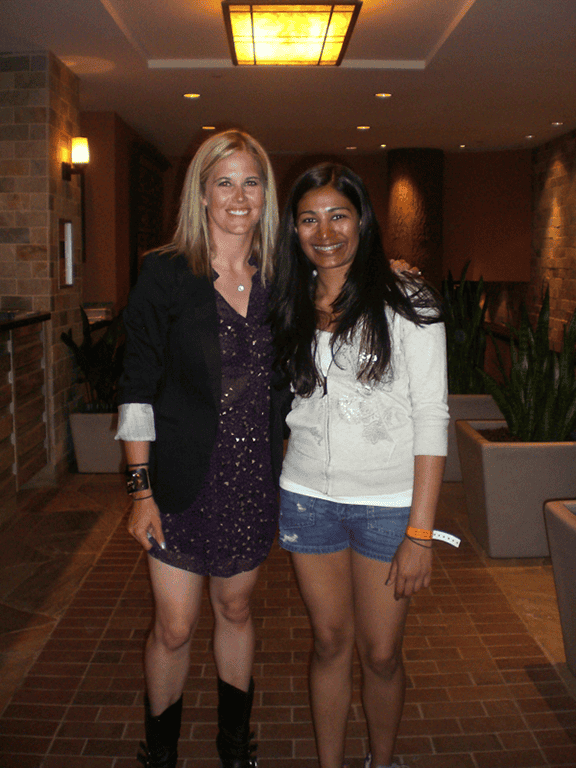 Amber and Sarah – Summer 2011
Thea Ruzycki:
"Hi momentum, this is my memory of Sarah Burke. I'll miss her so much this year at momentum 🙁 she was an amazing skier and truly inspirational.
For girls week at momentum this past summer, Sarah had been one of my coaches. I felt like I got to know her alot better in that week because she was constantly motivating us and telling us we could be as good or better then the guys. She taught me how to 720 and constantly made me feel confident enough to try new things. Although it was only a short period of time, I felt like I had become so much closer to her. She is my idol and will always motivate me to be a better skier. I'm going to shred as hard as I can and make her proud. Ski in peace Sarah.Xoxo, Thea Ruzycki."
Theo Harrison:
"I remember at the tender age of 14 riding up on the T-bar with Sarah without knowing who she was. We talked about where each other was from and when she said she had skied in London (where I'm from) I had no idea what she meant – little do I know now. I later bought a pair of skis off her for "the contents of my wallet" which turned out to be 30 bucks…an average deal to say the least! In spite of the fact that her skis turned out to be Rory's I will never forget the smile and exuberance she displayed – I know she will be missed but never forgotten. RIP."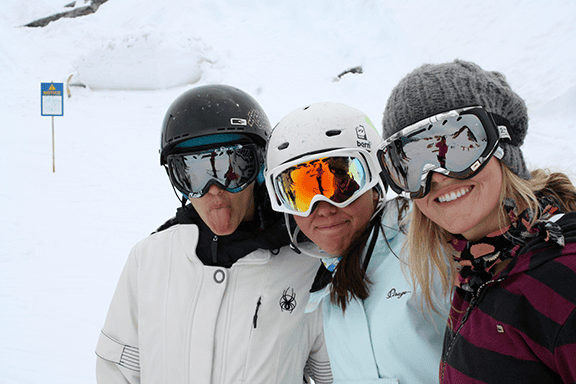 Aaron Barlond:
"What I will never forget about Sarah is her positive energy, her smile, her sense of humor, her drive, her kind and giving heart, and the fact that she never forgot who she was. She was always a true person, she was always Sarah. Those are just a few of the great things about her. There's no doubt in my mind that Sarah's positive energy continues to live on and will do so forever. Always as a positive and present spirit, ready to inspire us to be the absolute best we can be. Her energy will continue to power her family, friends, and many fans. Thank you Sarah, for being a friend of mine, and a friend to so many others. I can feel your energy and see your smile right now."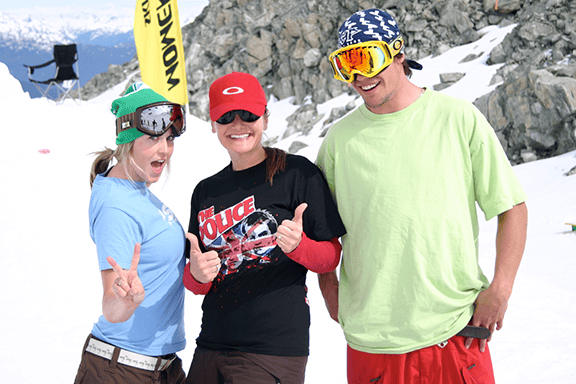 Karly Sansom
"I am extremely honoured to have been coached by Sarah this past summer up at Momentum. I had the summer of my life, and spending time with Sarah was definitely a highlight of girls week. Sarah has always been a huge inspiration to me and millions of others. Her impact on freestyle skiing for females has been incredible and we will all continue on with her legacy and never forget where she has gotten us. Sarah is the most positive, energetic, fun-loving and inspiring individual I have ever met and will be greatly missed among the skiing community. I'm so privileged to have been graced with Sarah's coaching abilities and she was the one who taught me my first flip. I will never forget Sarah and she will always have a place in my heart. I will continue to ski, and think of Sarah every time I do. Miss you and love you lots Sarah.Karly"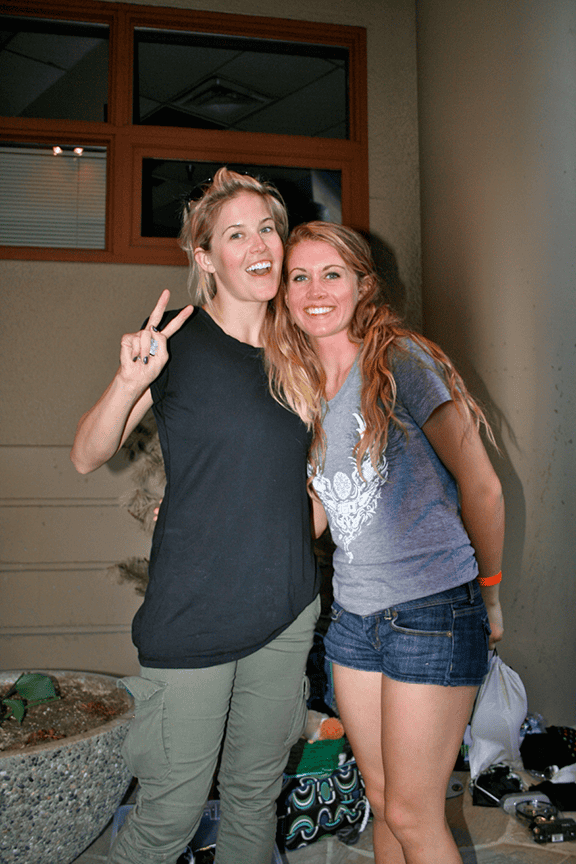 Jillian Gordon:
"Hi, my name's Jillian. I went to momentum for the past two summers, both of which I had the privilege of being coached by Sarah, she was a truly amazing person. She was always so nice to everyone at camp and encouraged all the campers to do their best. She was such an inspiration, to me and I know to every other female skier, she killed it on the hill and was always so happy. I remember summer of 2010 I was trying 270's onto a box and she was trying to help me get them down, I'd land on my face and every time she'd ask if I was okay and give me advice and encourage me to try again, Sarah was the sickest girl I've ever met and I'm praying that there is snow in heaven for her. Ski In Paradise Sarah. I'll never forget you."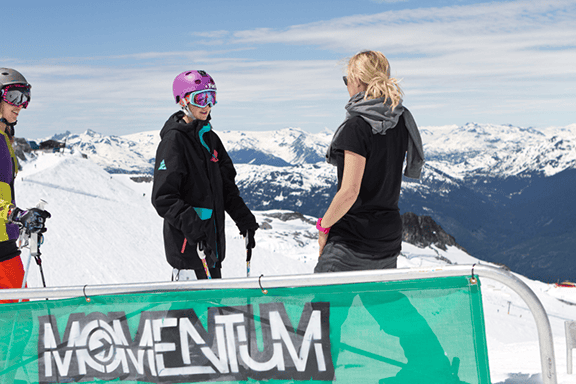 Harrison Gross:
"I was extremely upset, and shocked when I heard the news about Sarah's passing. Being able to meet and ski with her at Momentum was one of the greatest experiences of my life, and I will never forget it. She was always smiling, always having fun, and always willing to help out. When I first met her, I could not believe the amount of enthusiasm, and energy she had. It was infectious. On and off the hill nothing changed. Even when the weather was bad, and people were taking it easy, she still wanted to shred as hard as any other day.
Sarah wasn't just doing her job as a coach and camp councilor. She was a mentor, a role model, and a friend. Words can not describe her inclusive attitude and engaging personality. After my second year at Momentum I went up to see the Dew Tour at Mount Snow. While watching some practice runs in the pipe I was startled to get a tap on my shoulder. When I turned around I was greeted with Sarah's beautiful smile. She was extremely engaging, and asked me about my ski year, how I was doing, and what new tricks I had learned. Throughout the whole weekend, whenever we ran into each other, she would take time out of her day to chat with me. It still amazes me to think of that weekend, and how genuinely enthusiastic she was about talking to one of her campers.
You were truly a beautiful person Sarah, and I feel so lucky to have met you. Thank you for all the support you have given me. You will be in my heart forever. Harrison"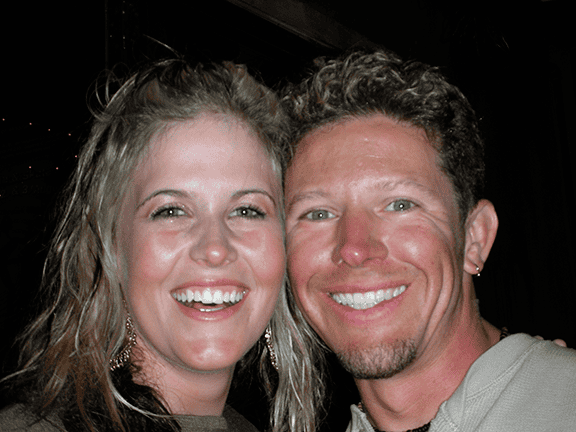 Steve Colgate, Adult Camper:
"When I first came to Momentum in 2004, Sarah was my first coach on my first day on the glacier. She greeted me with her warm smile and made me feel welcome as one lonely adult surrounded by swarms of teenagers. Sarah spent two full days teaching me how to ski my first rail. She watched me crash again and again, and she never stopped encouraging me and pushing me to keep trying. I couldn't believe that she would spend so much time helping someone who clearly had no future in the sport, even with all of the young future pros all around her. When I cleaned the rail for the first time, I think she was more excited than I was. As the years passed, Sarah gave me more tips and advice each summer, but more than anything else, she was a constant positive presence, one who gentle pushed me past my comfort zone to try new tricks. I haven't seen Sarah in a few years, but she will always be my first coach. Every one of my few meager freestyle skills is built on the foundation that she gave me in those two days on the flat bar. I can never repay her for that gift. Or for believing in me.
My heart goes out to Rory and all of the Momentum crew."
Hans Hedberg, Momentum Photographer:
"Such a big hole in my heart right now! Sarah was such a big light and influence during the camps! She will be missed tremendously! "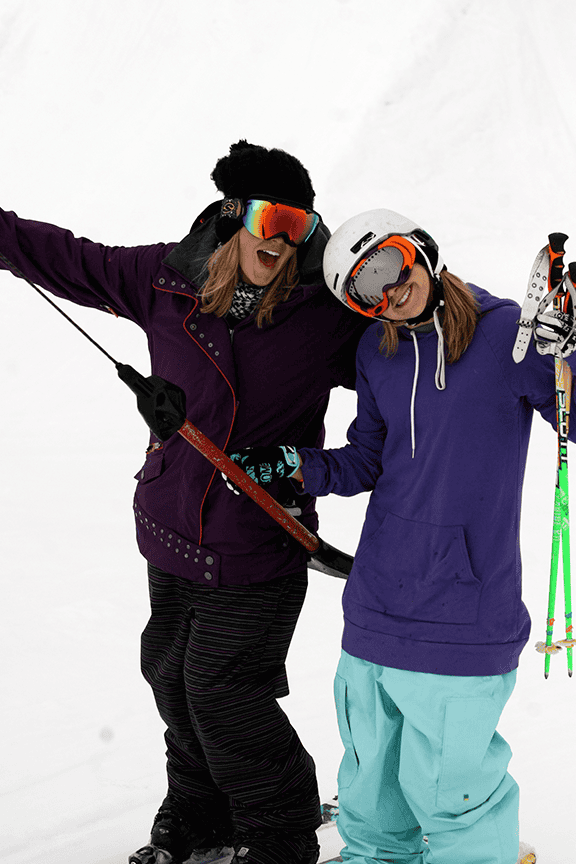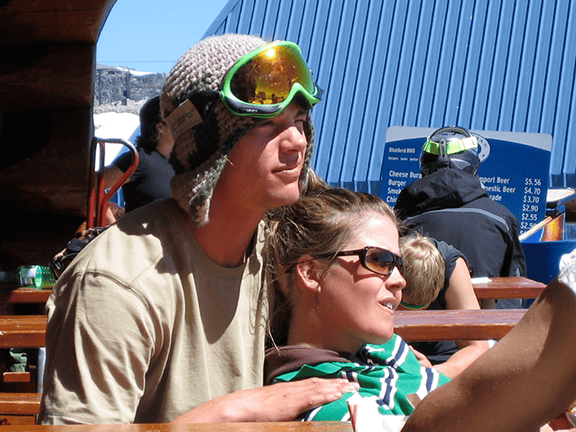 Summer Church:
"Such a wonderful coach. Full of happiness, we will miss her dearly."
Andrew Borden, Adult Camper:
"Dear John. Just the other day and far from the mountains, I was chatting with a colleague and the conversation turned to athletes and sports icons and I mentioned you and your glacier — a place where world class athletes have always gathered to share their love of the sport and of the snow. And I continued and described how the coaching and cajoling, praise and criticism, all produce a long line of skiers, exceptional not only for their talent and accomplishments, but for their modesty and generosity in sharing their sport. I mentioned you and then I mentioned Sarah and how she is a striking example of talent combined with modesty and how her presence and infectious smile always make one feel welcome and at ease and then my colleague told me of her passing that day – I had not heard any of the news regarding her accident and thought it odd that she would be on my mind on the day she passed.
I thought of you and her friends and family and all those, including me, whose lives are better for having known Sarah. Sarah was such a fine and kind, humble and warm young person. Just as in your memories of her, in all of mine she is always smiling – a wonderful gift to have left for us.
Someday, kind time having dulled the sadness, we'll once again make Sarah's smile our own whenever she comes to mind."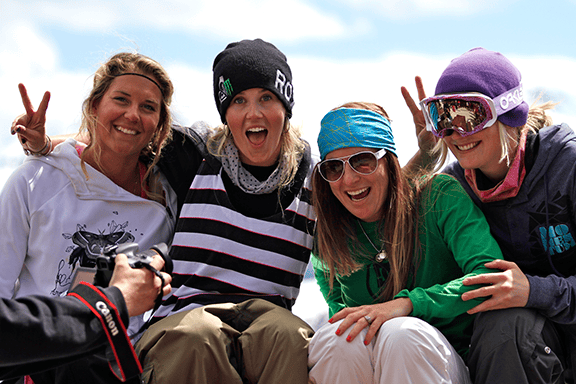 Lily Grace Nolan:
"Sarah was a hero. As a female skier I grew up being inspired by Sarah and attending Momentum and meeting her was such a profound honor. Years ago, as a 16 year-old bushy tailed mogul skier I met Sarah. This one night I snuck out of my room and decided to go out. It was a rest day the next day so I thought "why not." I ran out through the parking garage and proceeded into the streets of Whistler. I found some other campers doing the same thing. After a while, we ran into some diggers and coaches, Sarah being one of them. She laughed at us and asked "Lily, Oli, guys, what are you doing out here?!" She laughed and joked with us for a while, walked to Pita Pit with us and the few of us turned into a little flock for the night. It was just so awesome how taken care of and how akin she made us all feel. Ha, but the next day when Sarah reported us and me and Oli were sentenced to dig for the next few days. Which is why, to this day I can build one hellava kicker and wall!
I'll never forget that. Sarah was an amazing person, the fact that she took the time to get to know us individually and took the time to joke and interact with us (even as campers/students) really showed how much of an amazing person she is. I am now 22 and a 4th year art student at CU Boulder, but I still and will always make sure I have the poster Sarah signed to me – hung up. "Lily, I better see you in the park one day. Rip it! Sarah Burke"
I will always be motivated to push myself past boundaries and plateaus that we face skiing because of/for Sarah. Always a fan and always loved, true rippers never die."
Olivia Lane:
"I only got to be coached by Sarah this past summer during girls week, I will always remember her inspiring words to never give up your dream! I was glad I got this photo with her, she means a lot to me and every time I put on the skis it is for her! Ever girl who is a freestyle skier owes her a big thanks, we LOVE HER SO MUCH! The memories and talks I had with her about life will never be forgotten! She is such a great fun loving person who loved to pull jokes on people just like myself, I am glad we were able to discover this common interest!"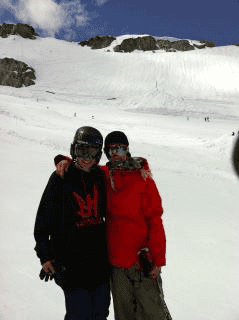 Olivia and Sarah Summer 2011
Cedric Chan, Adult Camper, London, UK:
"Hi Momentum. I was an adult camper from the UK in summer 2006 mixing moguls & park. Sarah was one of the coaches that summer despite carrying an injury and somehow managed to teach my group skiing rails !! She was always bright & cheerful with a million dollar Canadian smile every day ! Despite all of us being in complete awe of a freestyle skiing superstar she was so cool and approachable !!! She even found my vet life working with horses interesting between falling off rails and spinning 275s masquerading as 360s !!! I am sure I speak for all fellow campers that we were so privileged to have crossed Sarah's path in her wonderful life living her dream. Rest in peace Sarah and we will look for you in the stars on a crisp, clear night after another great days skiing on a mountain range somewhere in the world."
Kyle Smith:
"She was taken way WAY too soon from the ski industry, from us, her family and especially from her new married life with Rory :'(
Shred in Peace Sarah :'("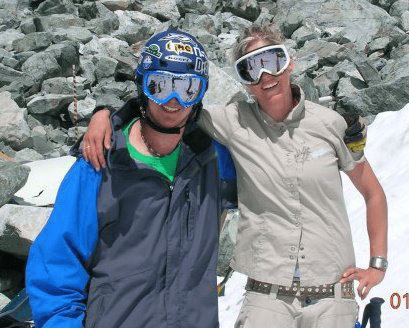 Kyle Smith and Sarah
J.C., Shareen, Michelle, Michael, and Marisa Fat:
"We were so sad to see Sarah pass away. Our family always looked forward to seeing her at Momentum each summer. Sarah was the sweetest and always extended her attention to the kids as well as the adult campers. Her smile was endearing and her encouragement was uplifting. Please give our heartfelt condolences to Rory. I know he and Sarah were planning on having kids after the next Olympics. Sarah will be dearly missed."
Adult Campers, John and Lisa Brondello sent us a DVD full of images, here's a nice selection as well as this tribute from John. Many Thanks!
"I remember meeting Sarah Burke the first day I arrived at Momentum Camp. I remember immediately being impressed with how personal she was. In my eyes, she was an untouchable superstar. She shattered that image immediately. She was there to have fun with the rest of us. She wanted to get to know you and be your friend. I couldn't detect a bad bone in her body.
As the week went on, I was taken aback by her humility. I had never ridden park before, so I was feeling quite self conscious about being in the freeride group. Sarah met me right where I was. She not only encouraged me, she praised me for every little (and I mean little) advancement that I made. It was not under her to be hanging out with beginners. Sarah loved to see people enjoy skiing and the sport she loved so much.
I remember at the video review one night bringing my Sarah Burke Huck Doll to have her autograph it. When I asked her to sign it, one of the other coaches exclaimed "YOU HAVE A HUCK DOLL?!!!" The coach took the doll to see it and immediately commented, "It doesn't even look like you". Sarah responded, nonchalantly, "I know! I will need to be more involved if they make another version". Sarah hadn't bragged about her accomplishments or her stardom. She just enjoyed being a coach and hanging out with fellow skiers. The stardom never went to her head.
To know Sarah was to be her friend. I will always remember Sarah and how she inspired me to just go for it. She had a special way of being present to only you when she was with you, whether you were being coached or just hanging out. I consider myself blessed to have had the opportunity to meet Sarah and ski with her over several years at Momentum Camp. Things will never be the same without her. Her memories will continue to live on. She would want us to continue to grow in the sport she loved so much. Her inspiration is what will keep me coming back, year after year. Thank you for all you gave to me, Sarah!"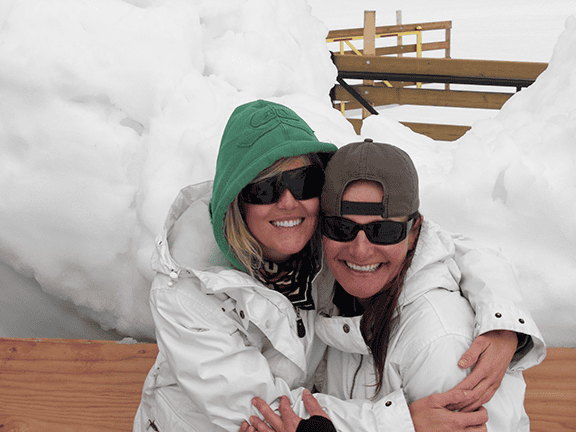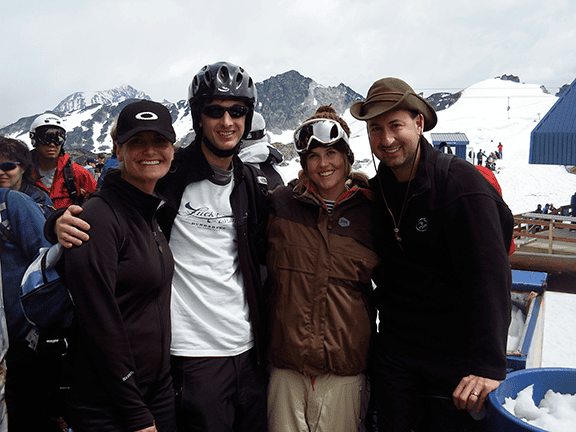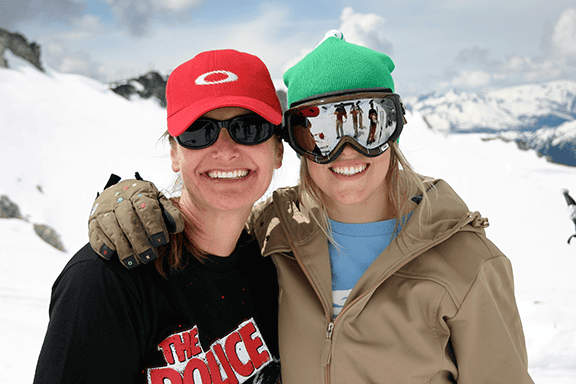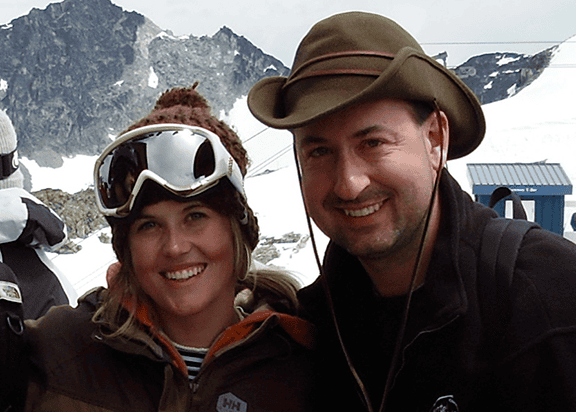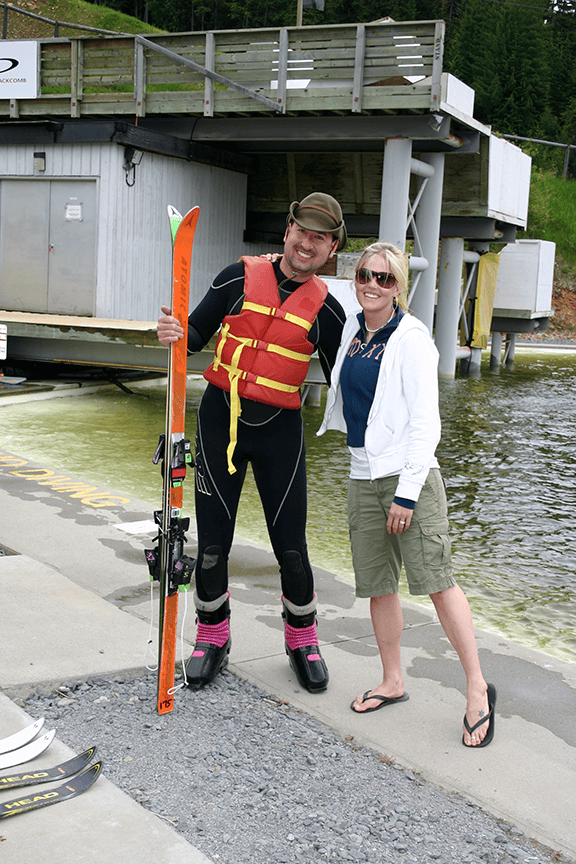 – Ski in Peace Sarah, we will always remember the joy and happiness you brought to us all!
#CelebrateSarah

A Tribute To Sarah Burke – by Zac Moxley

We Love You Sarah – by Drew Lederer
If you were a camper or coach with Momentum and have a story (and/or images) with Sarah to share, please email to us at info@momentumcamps.com
Thank You