Win a Free Camp
Enter your Name and Email address for a chance to Win a Free Session at Momentum Ski Camps!
OVER $2,000 Value!
Name:
Email: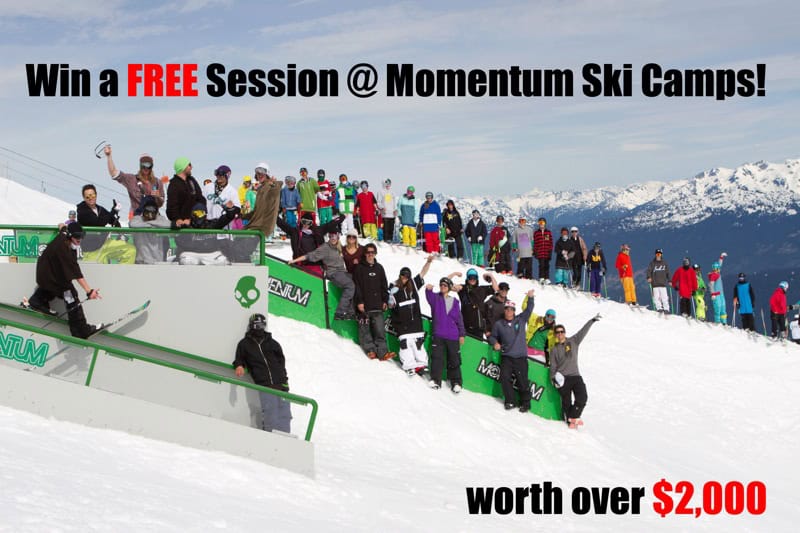 The best Coaching:
Simon Dumont, Tom Wallisch, Alex Schlopy, Alex Bilodeau, TJ Schiller, Sarah Burke, Rory Bushfield, Colby James West, Ian 'Chug' Cosco, Justin Dorey, Mike Riddle, Paul 'B Paul' Bergeron, Mikael Kingsbury, Kaya Turski, Phil Casabon, Mike Heniutuk, Roz G, Dave Crichton, James 'Woodsy' Woods,  Riley Leboe, Josh Bibby, Dana Flahr, Kristi Leskinen, AJ Kempainen, Alexis Godbout, Trennon Paynter, Corey Vanular, Josh Stack, JF Houle, Meg Olenick, Chris Turpin, Phil Marquis, Kristy Richards, Chelsea Heniutuk, Chris Wong, Eddy Hicks, Andrew Clough, Jamie tanner, Jay Vaughan, Warren Tanner, Jim Schiman, Tami Bradley, Ken Rhodes, Sarah Hogg, Shelly Robertson, John Smart and many more!
Terms and Conditions:
Non-transferable, Ski-package only????
May 6, 2017