Spring has sprung, and while that might mean your home mountain is closing it also means that summer camp is right around the corner. This summer is sure to be a banger with a stacked lineup of coaches, and after a ridiculous 40+ ft of snow this winter, a snowpack that's stacked even deeper. Come ride with some of the biggest names in skiing, make new friends, and tick off a bunch of new tricks from your bucket list.
Worried about scoring your favourite pro as your coach? Don't! Campers have the opportunity to work with a new coach each day, meaning you'll get to hang with your favourites and learn from a variety of different styles and perspectives.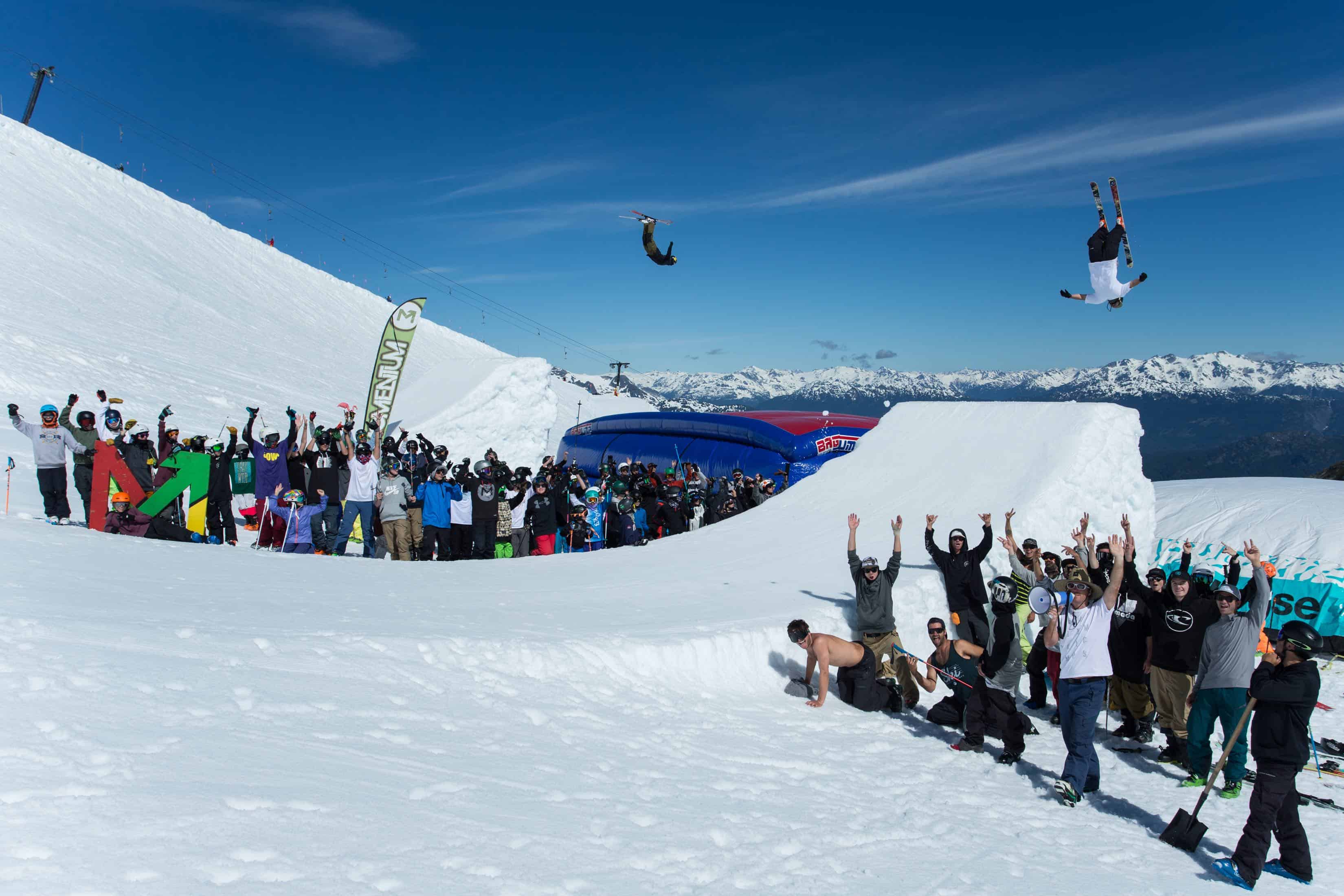 Park Coaches
Sandy Boville, head coach – All five sessions
This year's coaching head-honcho not only slays the park, but is also known for being Vin Diesel's stunt double in the latest Triple X movie. He'll be bringing the hype and helping campers up their park game all summer long. Sandy has appeared in several Level 1 Productions films including Habit and Pleasure and has taken back to back wins at the infamous Rails to Riches contest.
Joss Christensen – Session 4 + 5
Former camper and Slvsh's own Joss Christensen will be on-hand at Momentum both as a coach, and behind the lense filming games. The 2014 Olympic Slopestyle gold medalist is hyped to get back on the glacier to teach the next generation his craft and to stack more banger summer Slvsh games.
Woodsy – Session 3 + 4 + 5 ( and maybe even S1 Adults now) 
After shredding the glacier as a camper, the eternally stoked James Woodsy Woods returns for another summer at Momentum. Woodsy, who also happens to be one of Slvsh's all-time favorite referees, spends his winters constantly contending for the top steps of the podium at freeskiing's biggest contests. He's got big tech rail tricks and a trademark bag of unique aerial grabs and maneuvers. Often referred to as the friendliest guy in freeskiing, Woodsy will make every day on the hill one to remember.
Evan McEachran – Session 3 + 4
A podium-quality run at the 2018 Olympics was no surprise to skiers that have followed Evan McEachren over the years. The Oakville, Ontario native and former Momentum camper has a deep quiver of big tricks and a casual style that makes every spin, flip and grab look effortless. He also played in one of the best Slvsh games ever. Evan can show you how to do almost any trick you can think of, and make it look good, too. If you need proof then check his Instabanger from the glacier last summer.
Khai Krepela – Session 3
Khai needs little introduction, the rail god is back. Not much is certain in skiing, but amazing film segments year after year have become the regular for Khai, with technical rail tricks on high consequence street features as his staples. Work with Khai as your coach, and maybe some of his rail wizardry will wear off on you.
Will Wesson – Session 3
Speaking of rail wizardry, Line teammade and Travelling Circus OG Will Wesson will also be back for Session 3. The X Games Real Ski champion is one of the smoothest rail skiers of all time. Between him and Khai, campers will be KFeding, surface swapping, and pretzeling left and right.
Magnus Granér – Session 4 + 5
Magnus has broken the mold for what style means and how park skiers ski. He's got an uncanny technical skillset and a totally unique "swervy" style, that's taken fire around the ski world. Magnus can help show you how to do you. Get steezy with Magnus Session 4 and 5.
Fabian Bosch – Session 3 + 4
There are no shortage of accolades to show how sick of a skier Fabian Bosch is. To name a few, he's an X Games gold and silver medalist, and slopestyle world champion. The Swiss Bosch has crazy air awareness, leading to some wild jump tricks that will blow your mind.
Mike Riddle – Session 2, 4 + 5
Mike Riddle has been one of the best pipe skiers in the world for a long time, appearing in his first X Games back in 2012. Watch Riddle, another former Momentum camper, slay a rail line and you'll realise this Olympic silver medallist has serious skill both in and out of the pipe.
Phil Casabon – Session 3
Click on his link, Legend !  and best part he was a former camper 🙂
Big Mtn Coaches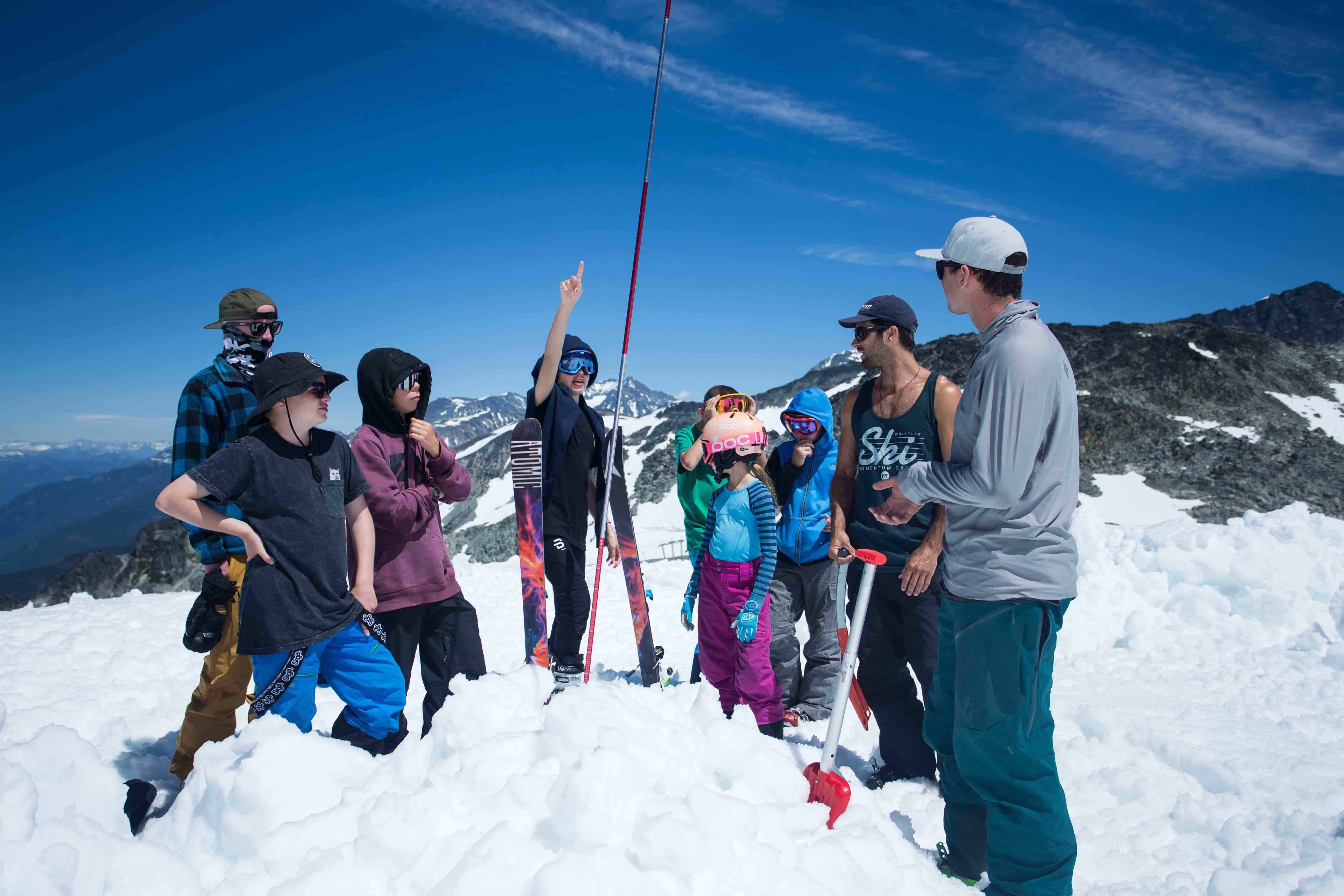 Austin Ross – Session 3
From Pemberton, BC Austin grew up in the mountains. He's now an all-around back-country badass. His winters consist of skiing, climbing, speedflying and much more. Austin travels the globe shredding big lines and chasing deep snow.
Callum Pettit – Session 3
While calm and calculated on the exterior, Whistler local Callum Pettit has stepped up to some of the rowdiest lines ever descended on skis. Growing up shredding some of the gnarliest terrain in North America has given Callum an in-depth knowledge of the mountains, which he is stoked to pass on to up and coming big mountain shredders. Callum's accolades include winner of 'Best Line' and 'Full Throttle' for his part in Sherpas Cinema's Into the Mind at the 2013 Powder awards.
Stan Rey – Session 5
Stan Rey took his technical background in ski racing and skicross to the back-country, where he now enjoys chasing powder and busting backies off any drop you care to point out to him. Stan's winters now revolve around filming for BLANK and Salomon Freeski TV. He skis fast, sends hard and is dedicated to spreading his new religious movement: #backysunday.
Tatum Monod – Session 5
Throwing tricks in her lines and skiing big spines, Tatum is a ripping big mountain skier. Her style is fast and flowy. Tatum won Freeskier Magazine's 'Skier of the Year' in 2017 and wowed the skiing world with her second full movie segment in Level 1 Productions' 2017 film Habit, for which she won Best Female Performance at the Powder Awards.
Girls Week Coaches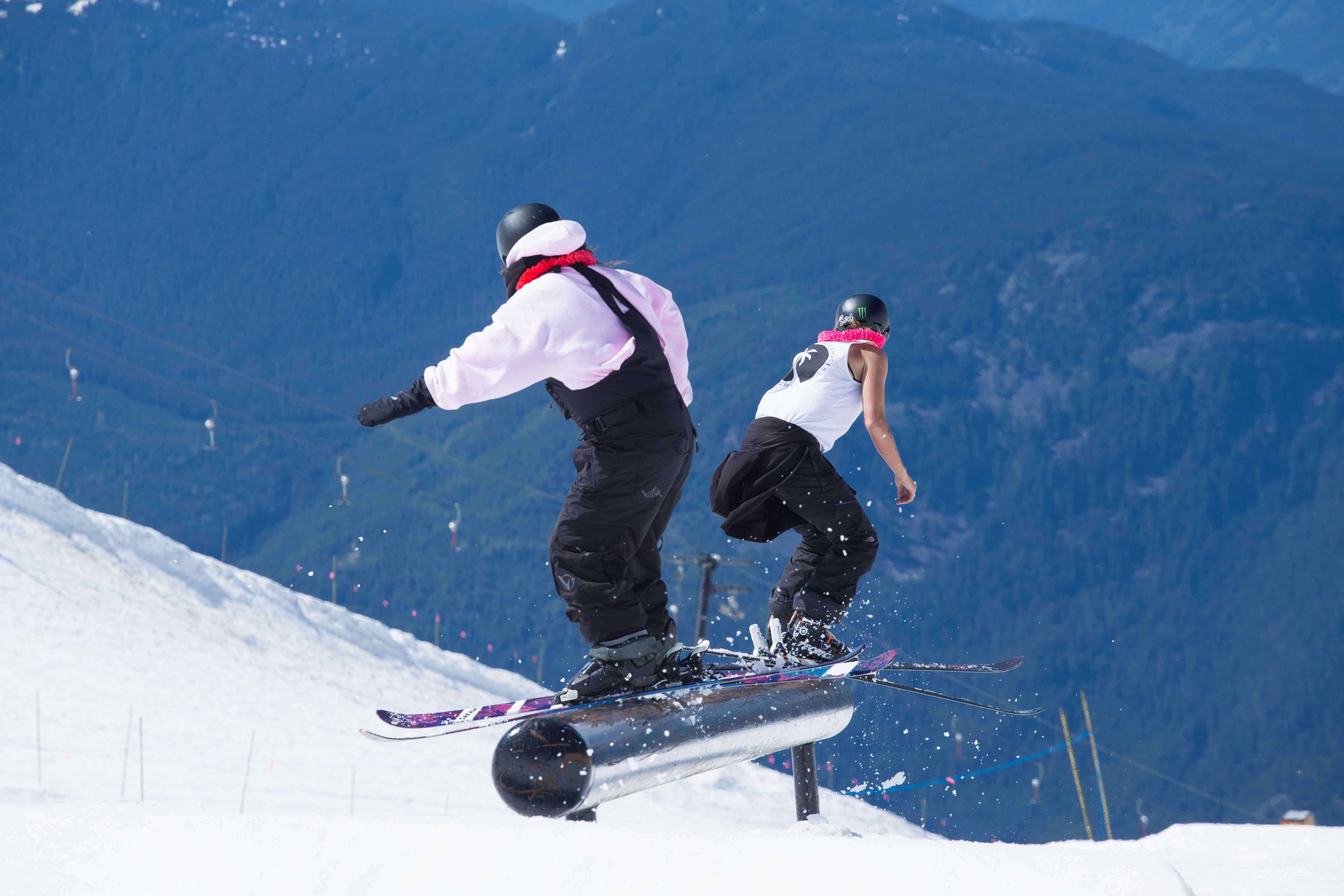 Cassie Sharpe – Session 1 + 5
Fresh off a gold medal at the 2018 Olympics in halfpipe, Cassie Sharpe is ready to take to the glacier and teach the next generation. She's a constant podium finisher at skiing's top events and the first one to start a food fight in the lunch line up. There's a good reason Mount Washington named a run after her!
Ashley Battersby- Session 5
This little lady started her pro ski career at just 15 years of age and competed at International freeski events for the next 12 years. Under her list of achievements are shooting with Rage Films, winning the Dew Tour slopestyle, Gold at the European Open, first place at 2 x World Ski Invitational Big Airs, 9 Queens Big Air champ and an X-Games bronze medal.
Dania Assaly – Session 1 + 5
A former Momentum camper and Canadian freeski team member, Dania is the definition of a hype queen. She'll be the first to get the party started on and off the hill and if you challenge her dance moves you'll be sure to walk away second best. Dania has podiumed in major freeski events such as the Dew Tour, Aspen Open and NZ Open.
Update: Other Park coaches include Matt Margetts ,  Jarrod McCarl,  Jake Carney, Rory Bushfield, Simon Dartois, Noah Bowman, Mack Jones, Mike Henitiuk, Max Morello & Riley Leboe. 
Mogul Coaches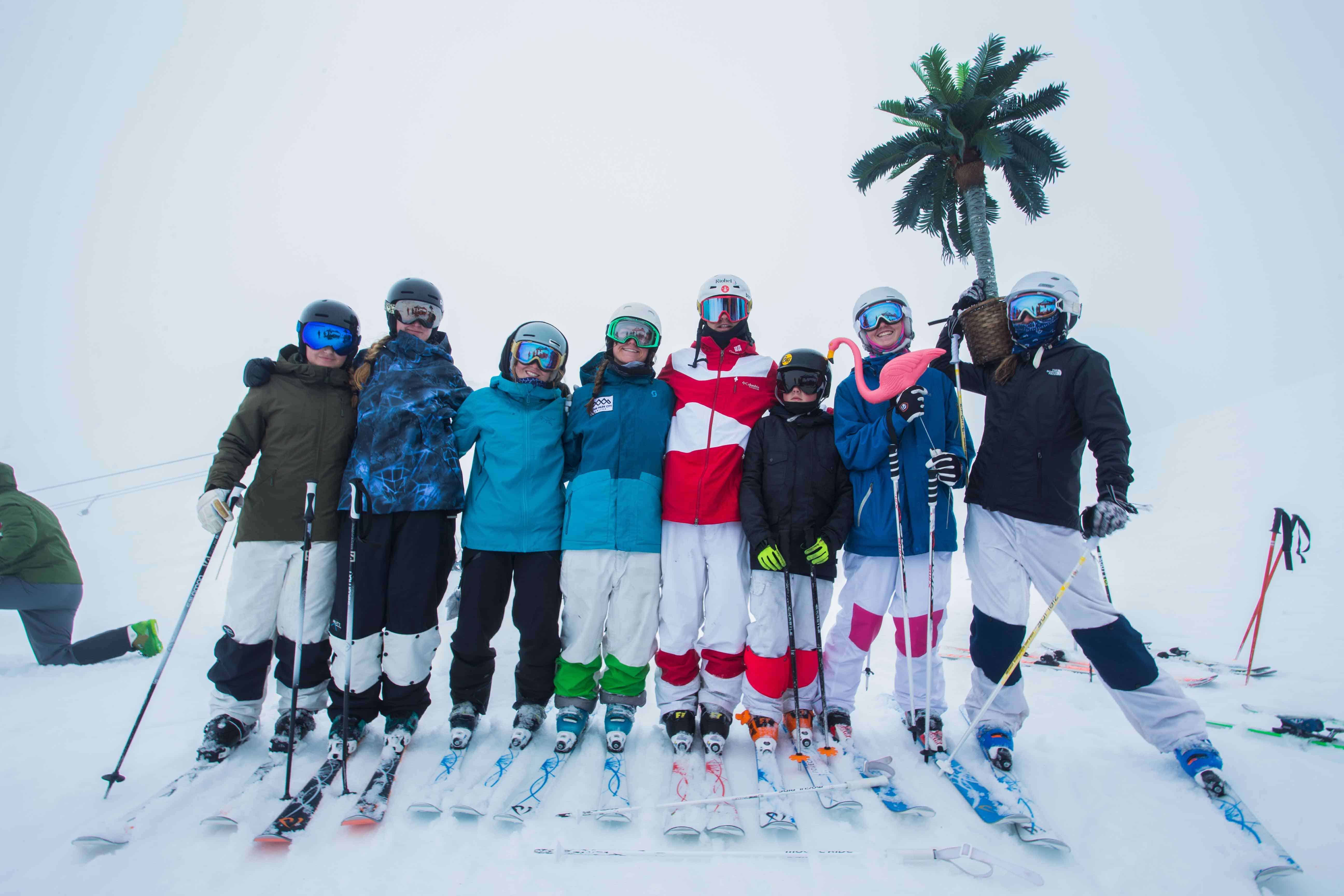 Mik Kingsbury
For the seventh consecutive season, Mikaël Kingsbury has won both crystal globes. The Deux-Montagnes native had already clinched the honour, and the title of Best in the Discipline, in Tazawako, Japan. But he had to wait until the end of the season for the FIS to announce that he'd also won the globe for best skier in all freestyle disciplines. Kingsbury ended this season with a record 49 World Cup wins, seven of those in the 2017/2018 season, 13 straight victories, along with a gold medal at the 2018 Olympic Games.
Phil Marquis- Session 4+5
Phil joined the Momentum team a couple of years ago after winning World Cup Rookie of the Year in 2009. Following in his brother Vince's footsteps, Phil has had a stellar career on the Canadian World Cup Team, winning 5 World Cup medals, including Gold in Ruka, Finland at the season opener this year. His fun and happy personality makes him a solid favourite at Momentum!
Jean Luc Brassard- Session 1
1994 Olympic Gold Medallist, 2 X World Champion , 20 X World Cup Gold Medal winner with 47 Podium finishes during his career!  This equates to nothing short of Legend Status !
Audrey Robichaud
This three time Olympian has had a long and outstanding career. Audrey has been competing on the World Cup circuit since January 2005 and as a 16-year-old, was named the FIS Rookie of the Year for moguls after the 2004-05 season. Audrey has earned 10 World Cup career podiums.
Tess Johnston- Session 3
Tess Johnson, hailing from Vail CO, was the youngest moguls athlete to be named to the US National Team at 14 years old and is already making a name for herself by taking her first World Cup victory on March 3, 2018, in Japan! She competed at the Pyeong Chang Winter Olympic Games last February placing 12th. 
Keaton McCargo – Session 3
Keaton McCargo has been a United States Ski Team Member for the last 5 years. From Park City, Utah She has spent the last 4 years traveling on the World Cup circuit and has finished in the top 10 the last 2 years. She has two World Cup Podiums and went to the Pyeong Chang Winter Olympic Games last February. She has spent the last 8 years training in Whistler and is excited to mix it up and coach!
Nessa Dziemian – Session 3 + 4
New Hampshire native and US Ski Team member, Nessa Dziemian, had a break out year in 2015, capturing the NorAm title and two podiums at U.S. Nationals, including the Dual Moguls title. She's continued to see success at the World Cup level with six top-10 finishes
Shelly Robertson- Session 2 + 3
Shelly was on the US Freestyle Ski Team for 11 years and in that time was 4 x National Champion, won the Deer Valley World Cup (2008) and earned over 40 top 10 finishes on World Cup circuit. Shelly now coaches the Squaw Valley Freestyle Team.
Kristi Richards- Session 1
Hailing from Summerland, BC Kristi is another former camper and former top World Cup and Olympic skier. Kristi was an inspirational coach at our inaugural Girls Week in 2010 and followed that with another excellent season on World Cup with multiple podium results and a Bronze medal at the World Championships. She retired from competition in 2012.
Rachel Belliveau – Session 1 + 2
Rachel was a longtime member of the Canadian Freestyle Ski Team, competing on the Europa Cup, Nor-Am and World Cup circuits. Rachel logged career bests with a World Cup win at the 2002 Whistler World Cup in Dual Moguls and a top 10 finish at the 2001 World Championships.
Jamie Tanner -Session 1, 2, 3
Former Canadian Freestyle Development Team athlete, Jamie Tanner, competed on the Nor-Am circuit for five years. Now a professional action sports cinematographer, Jamie gets his mogul fix each year from joining us at summer camp on the glacier.
Brenden Kelly – Session 3,4
Known as Sharkie on the glacier, Pemberton local Brenden Kelly is the recently crowned 2018 Dual Moguls Canadian Champ. A new comer to the Canadian National Team, Brenden had a break-out season this year, with 6 World Cup starts a career best 11th place at the Calgary World Cup.
Alex Wilson- Session 2
With 55 World Cup starts under his belt, Alex Wilson can be considered a veteran of the sport. With 2 x World Cup podiums and an appearance at the '98 Nagano Winter Olympics, Alex has a well of experience to share.
Update: Other mogul coaches recently added include Eddie Hicks ,  Dean Berchovitch,  Ken Rhodes, Kelly Ringstad, Zac Hoffman, Matt Joosten & Danika Mazur,