Momentum 22′ Halfpipe into Airbag!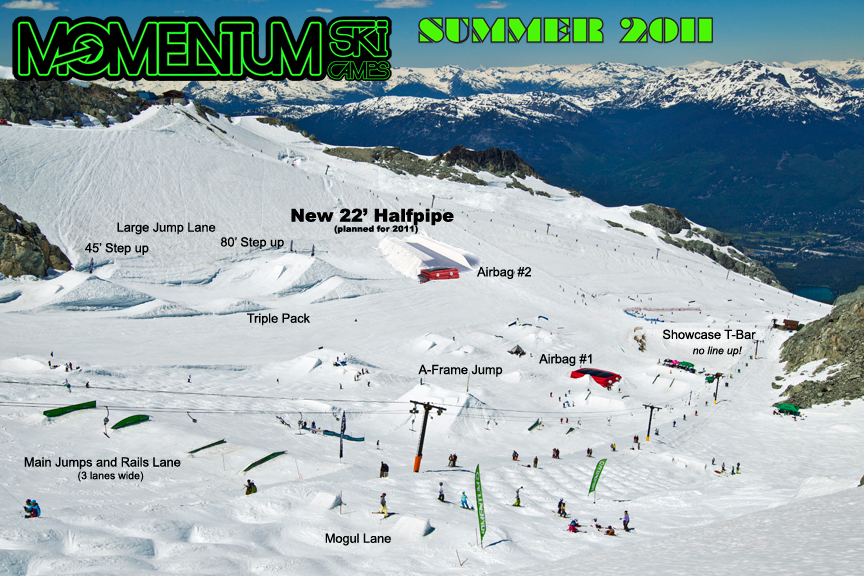 NEW for 2011: Momentum's 22' Halfpipe into Airbag
We are stoked to announce we will be adding a 22? halfpipe to our terrain park this summer along with a 2nd airbag that will be inlayed into the pipe. See image above where we have added the pipe and airbag in its planned location.
• The 22′ superpipe will be a two hit pipe ideal for training and feeding the next generation of Olympians.
• Pipe will be cut by Whistler's newly acquired 22? global pipe cutter.
• This pipe will be exclusively available to Momentum Ski Camps only.
• There will be a 50' by 50' Airbag at the end of the pipe to provide the safest learning progression.
• Canadian Halfpipe team, including Justin Dorey, Mike Riddle, Sarah Burke, Roz G, and Trennon Paynter will be using the pipe for training and teaching at Momentum Camps.  Multi X-Games Champion, Simon Dumont also plans to come out to coach and ride with us this summer ! Add these Pipe Pro's to our full line-up of coaching stars, including this season's X-Games and World Champion Alex Schlopy and we have the makings of an Epic 20th Anniversary year at Momentum this summer!
This season has been the 2nd Snowiest Winter on record at Whistler Blackcomb – our mid mountain base is still over 10 feet!  This means only good things for our new park design.   Chris Turpin, terrain park Manager and designer along with the newly appointed Momentum Dig Crew are getting amped with plans for 2011.   The legendary 80' Step-Up, Voted Best Jump on the Glacier, will be back. The 32? wall ride is back. Add in 2 Airbags, the Water Ramps, a Foam Pit and More Trampolines than ever before, and the learning curve just got easier!
May 9, 2011