Momentum Session II, 2011
Filmed and Edited by: Steve Horton
Session 2 was unreal! We were stoked to welcome Simon Dumont & Alex Schlopy to our coaching squad this session. We also built and added the new 24′ Skullcandy Stairset plus we dialed in our 22 foot Halfpipe into BagJump!
Coaches Rory Bushfield, Tim Russell, James "Woodsy" Woods, Colby James West, Simon Dumont, Alex Schlopy, Chris Wong, Andrew Clough, Tami Bradley, and Eddie Hicks had a super fun week with all the campers. There were laughs, high fives, and a crazy competition!
The coach's sale was slammed with everyone picking up cheap swag and collecting autographs!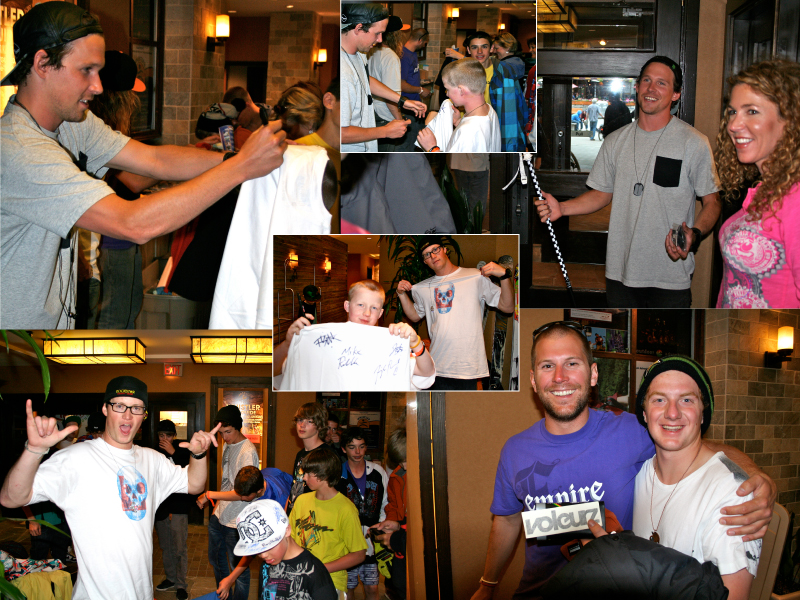 Coaches Sale – TJ Schiller utilizing a campers head to sign a shirt!
Mike Riddle stoked! and Tim Russell hooking the kids up!
The final night wrapped up at the GLC. There were a number of creative acts including a group of 8 boys re-enacting Disney's Aladdin 'A Whole New World'. And an impersonation of the coaching staff from one of the smallest but bravest campers!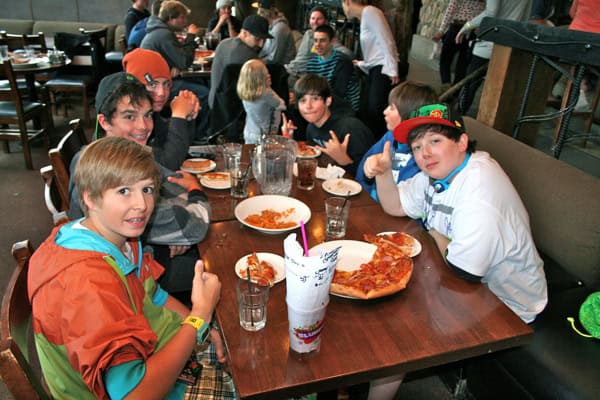 ..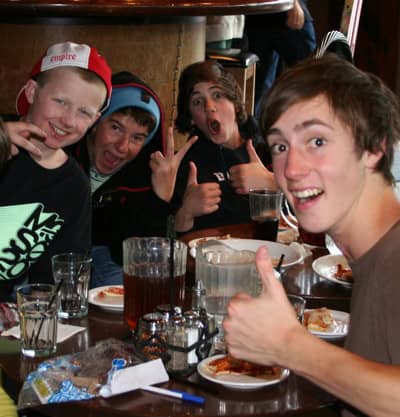 Stoked campers at the GLC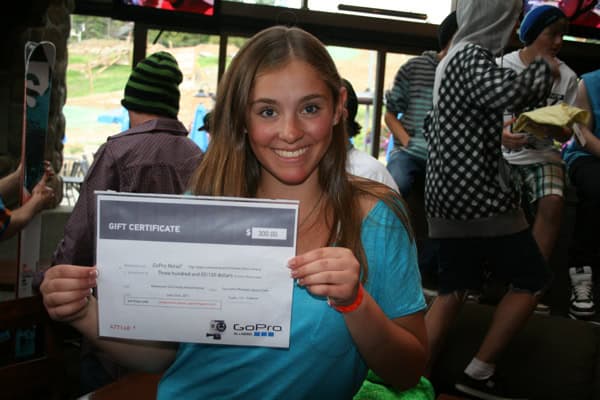 GoPro's, Salomon Skis and a ton more prizes makes campers happy!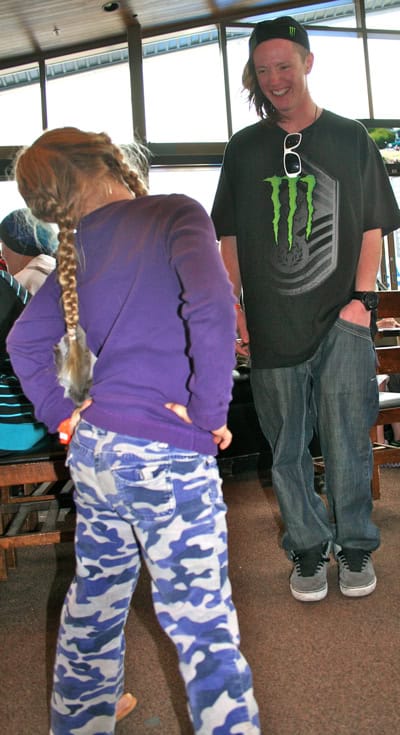 Impression of James 'Woodsy' Woods

Simon Dumont, Josh Bibby, with their new friend!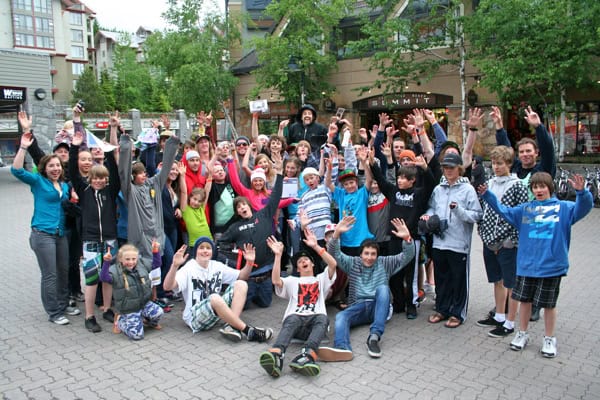 Group Shot!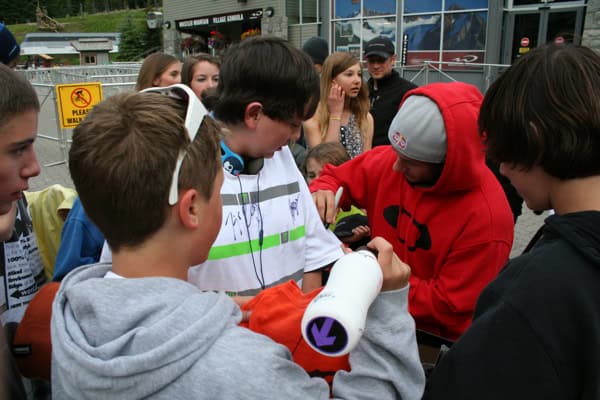 Simon Dumont Signing Autographs!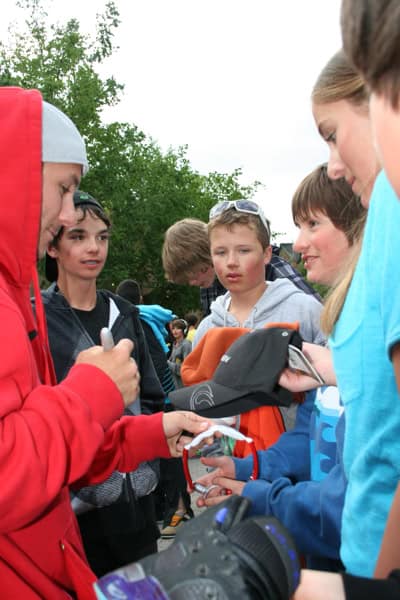 Simon Dumont still signing… – Check out the Shoe in the foreground!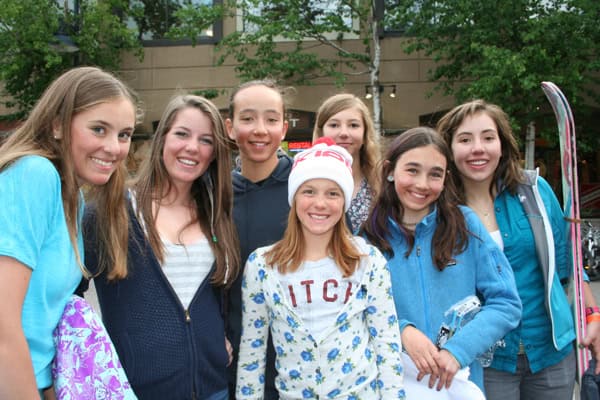 Girl Power!
Slope style is in the Olympics!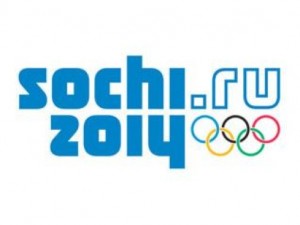 "This week has been incredible! Not only with the camp in full swing and the weather amazing! Now with Slopestyle in the Sochi 2014 Olympics, I think the kids and coaches are hucking just a little harder." "We have coaches such as Simon Dumont, Alex Schlopy, James Woods, and campers extending their stays, after having such a good time!"
Check out the Skullcandy and Momentum 24 foot Stairset!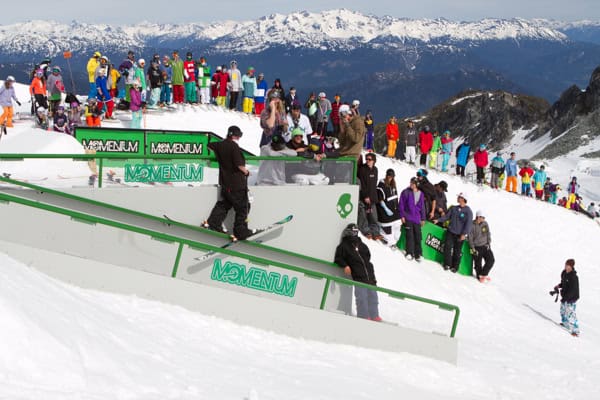 Coaches and Campers – check out Bibby Blowing Bubbles!      Photo: Miles Clark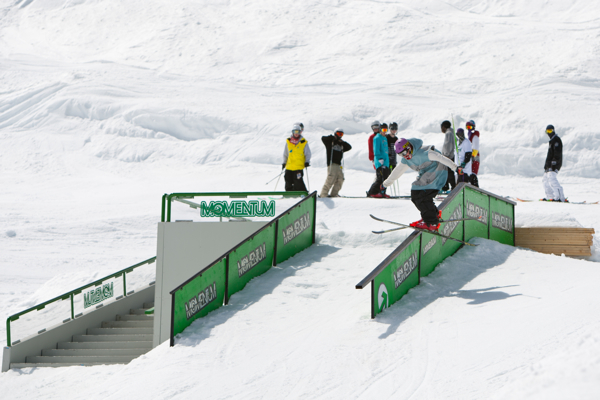 Diggers hard work in full display! Huge Props to those guys!      Photo: Miles Clark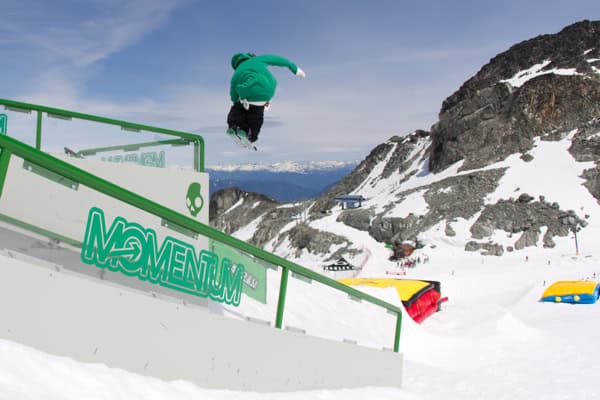 The Skullcandy 24' Stairset, Halfpipe into BagJump and 2nd Air bag in full display!
Photo: Miles Clark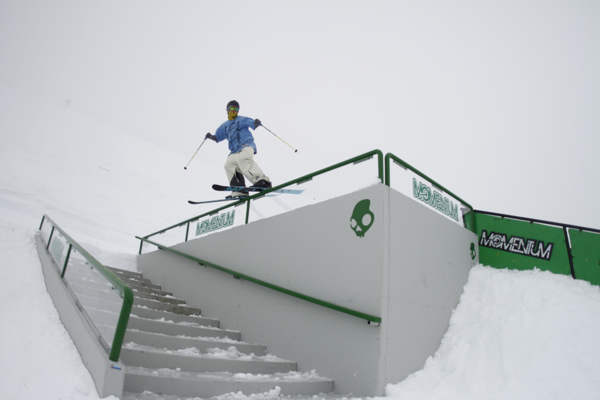 Watch out for that close-out rail! This is feature is legit!   Photo: Hans-Erik Hedberg

The park is looking so dope!    Photo: Miles Clark
Session 3 Coming next, with an insane week of Coaches and the famous Splashdown, water ramp event.
Check out the edit from last year HERE!
Alex Schlopy and Simon Dumont have been rocking out at session 2 and will be killin' it during session 3! Speaking of which… Session 3 is insane! Tom Wallisch, Mike Riddle, Justin Dorey, Paul Bergeron and many more…  on Moguls we have Alex Bilodeau and Mik Kingsbury joining our star studded cast of Coaches. It's also Girls Week with Sarah Burke, Roz G, Kristy Leskinen, Dania Assaly and Chelsea Henitiuk.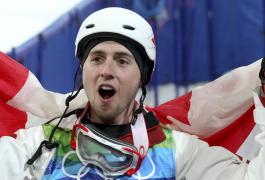 Our 20 Candles Contests are still kicking strong: Congratulations to the Winners of the Skullcandy Contest: 1st – Carson Dixon, 2nd- Zac Moxley, 3rd -Ben Lefever!? Huge Thanks to Skullcandy Canada for contributing over $400 worth of prizes for this contest alone! Click here to check out the Alex Schlopy Contest, just about to wrap up! Also launched, is our Oakley Goggle Tan Contest for a Pair of Oakley Splices Signed by Simon Dumont! Submit your photos on Newschoolers HERE!

July 15, 2011