Momentum Session IV 2011
Momentum Camps 2011 Session lV Edit from Momentum Ski Camps on Vimeo.
Filmed and Edited by: Steve Horton
SESSION 4,  JULY 9 – 17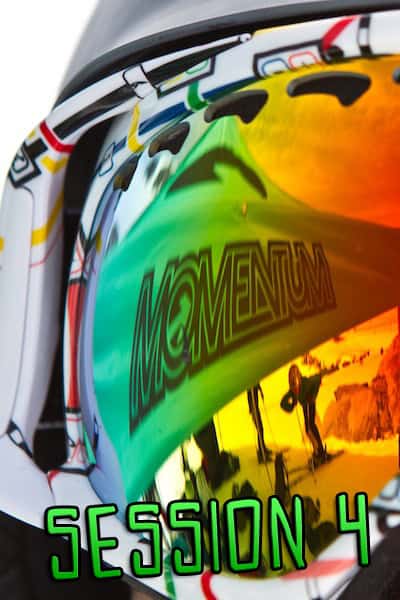 Session 4 campers were welcomed by another star-studded line-up of coaches:  Tom Wallisch, Simon Dumont, Gus Kenworthy, Justin Dorey, Mike Henitiuk, Matt Margetts, Dave Crichton, Kaya Turski, Paul 'B-Paul' Bergeron, James 'Woodsy' Woods, Colby James West, Josh Bibby, Rory Bushfield,  Riley Leboe, Tim Russell, Kristi Leskinen, Dania Assaly,  Toben Sutherland,  Sash Lazic, Phil Marquis, Scott Bellavance, Tami Bradley, Chris Wong, Eddie Hicks, Sarah Hogg, Warren Tanner, Ken Rhodes, and Audrey Robichaud.

Photo: Joern Rohde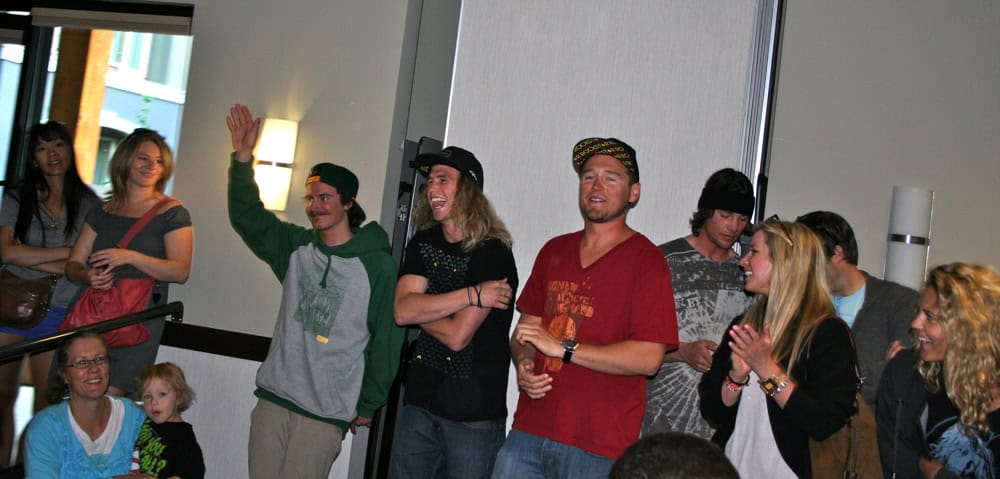 Mike Henitiuk, Matt Margetts, Riley Leboe, Rory Bushfield, Maude Raymond, and Dania Assaly.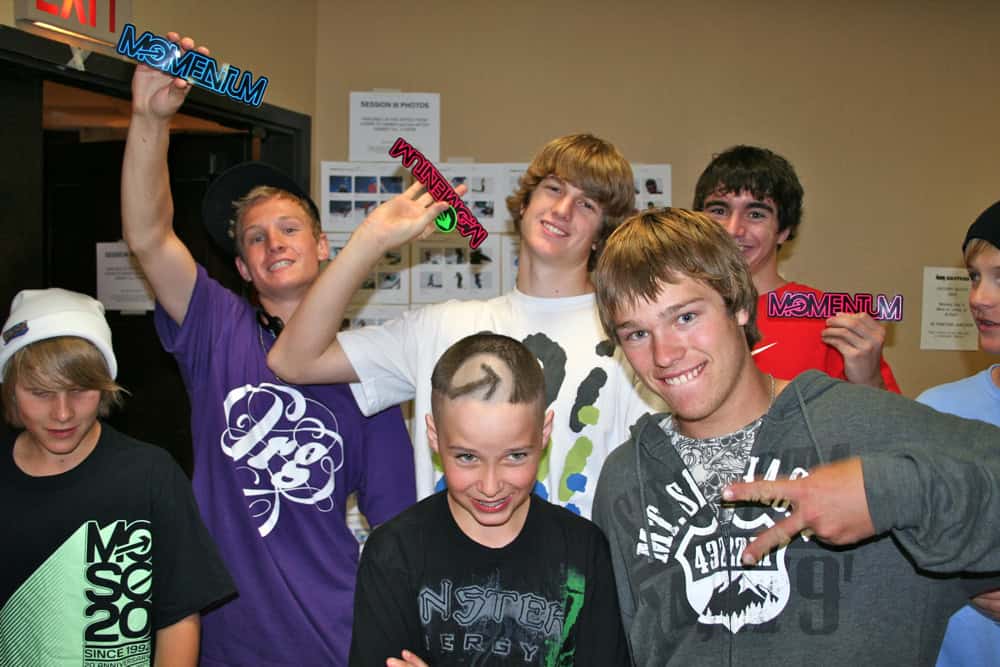 After the Welcome Meeting….

…Everyone was stoked to get up on the Glacier!       Photo: Joern Rohde
The 22 Foot Halfpipe plus Airbag was in full use this week!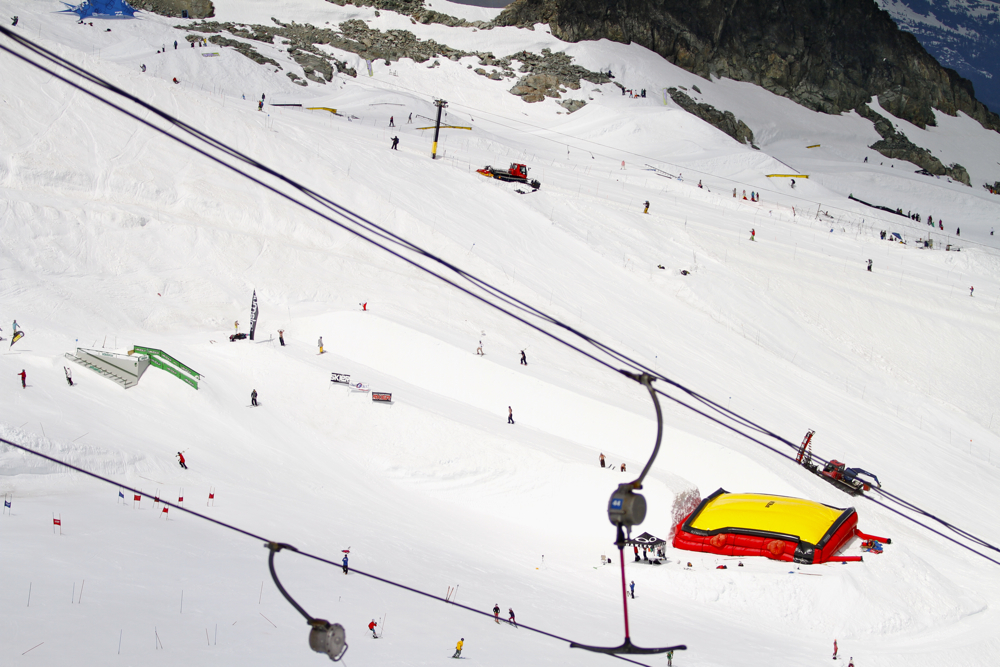 Photo: Hans-Erik Hedberg
With ski Halfpipe firmly in the Olympics, the 22 foot halfpipe into Bagjump received a lot of use also from the Canadian, French and New Zealand National teams!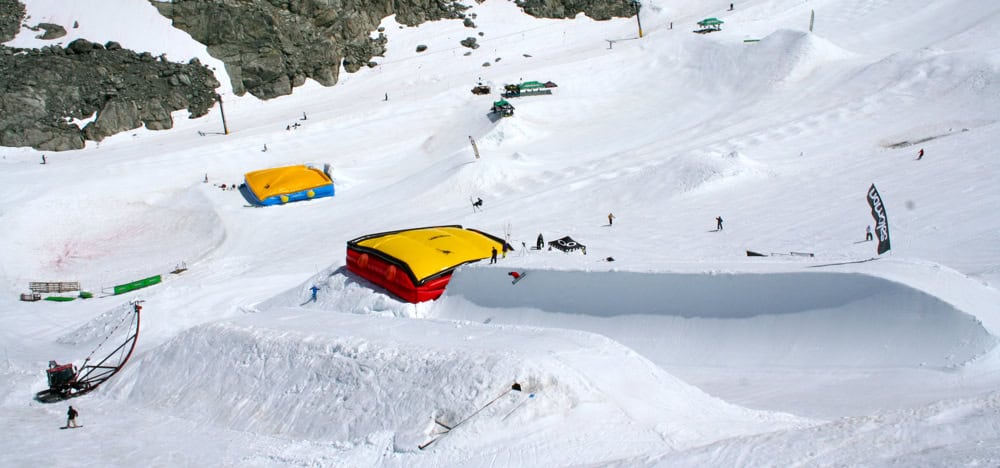 Canadian Team, lead by Trennon Paynter, included Justin Dorey, Sarah Burke, Mike Riddle, Matt Margetts, Roz G and Megan Gunning.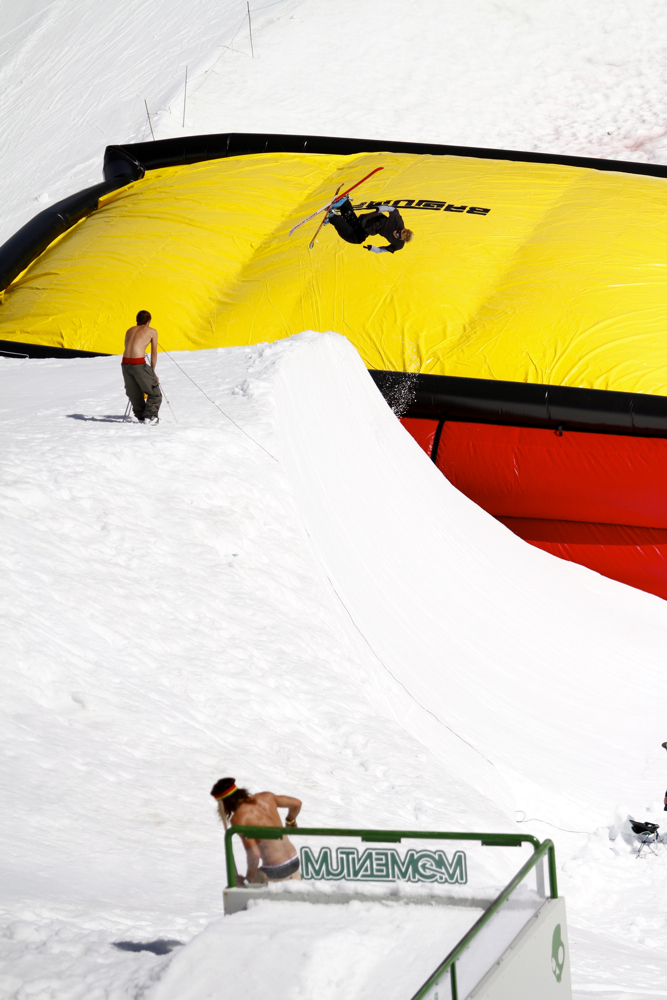 Justin Dorey with Trennon Paynter wired in with live video analysis.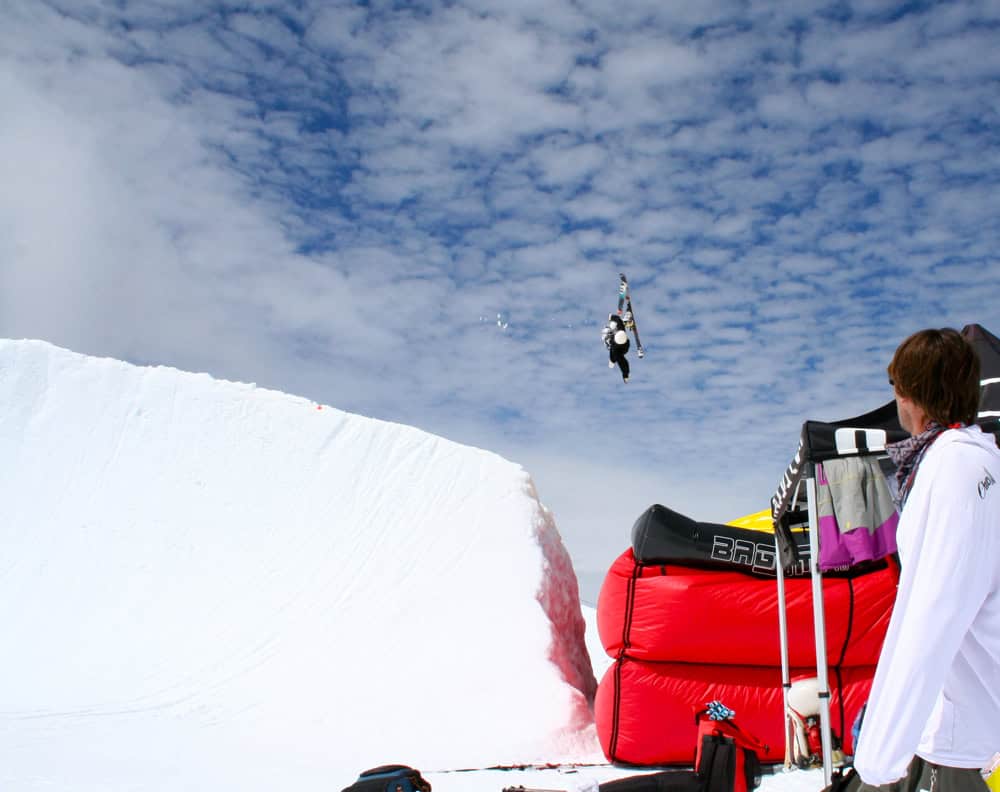 Trennon watching on as Kris Atkinson sends it into the airbag!
The French Team, consisting of Kevin Rolland, Xavier Bertoni, Thomas 'Toto' Krief and Benoit Cormier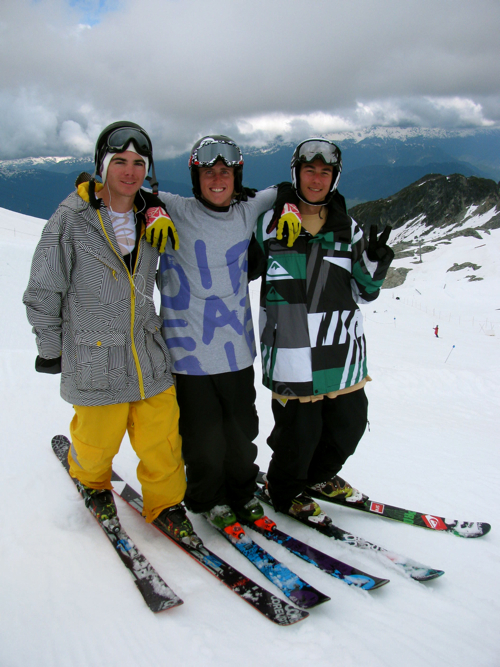 Benoit Cormier, Xavier Bertoni, Thomas 'Toto' Krief. Photo: Jeff Schmuck
The New Zealand Team, including Jossi, Byron, and Beau-James Wells…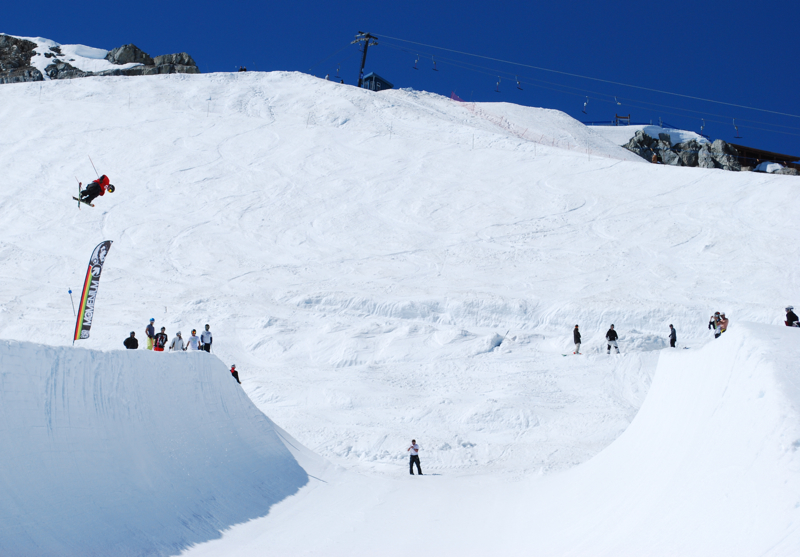 Bryon Wells sending it huge out of the pipe! Photo: Jeff Schmuck
Lots of creativity going off on the jibs this week…
…with Colby's pole flip on the down-flat-down…
Simon Dumont's and Tom Wallisch's – 270 on 450 Misty out on the whaletail!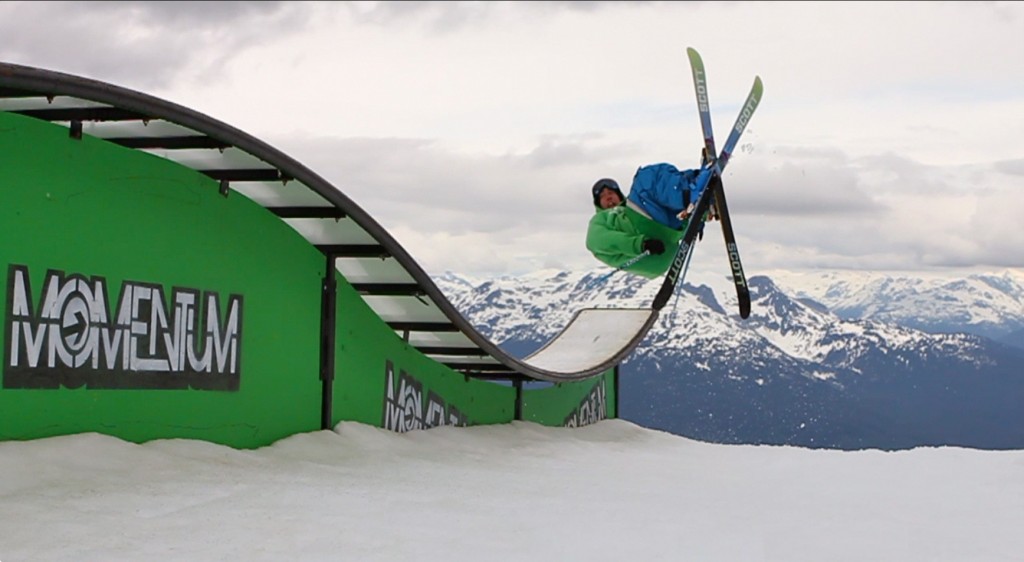 and…
…Tom Wallisch's S Rail interpretation off the Skullcandy stairset setup!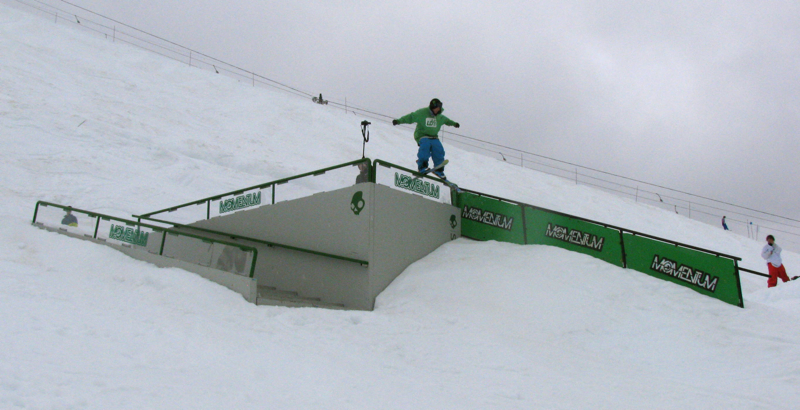 Photo: Jeff Schmuck
The inspiration was all there for the campers to kill it too!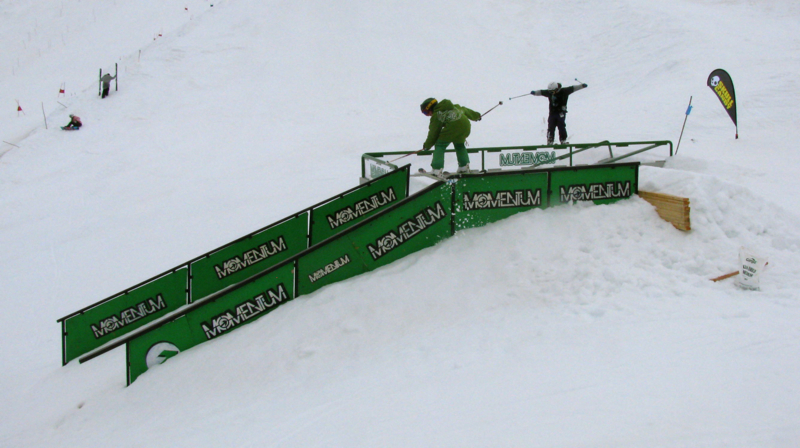 Photo: Jeff Schmuck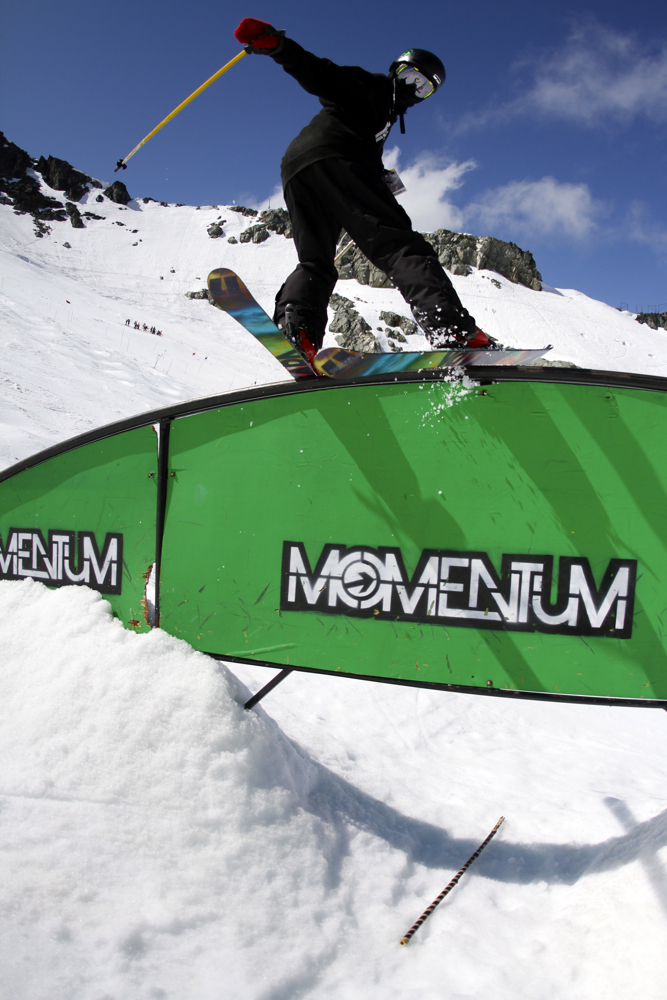 Photo: Hans-Erik Hedberg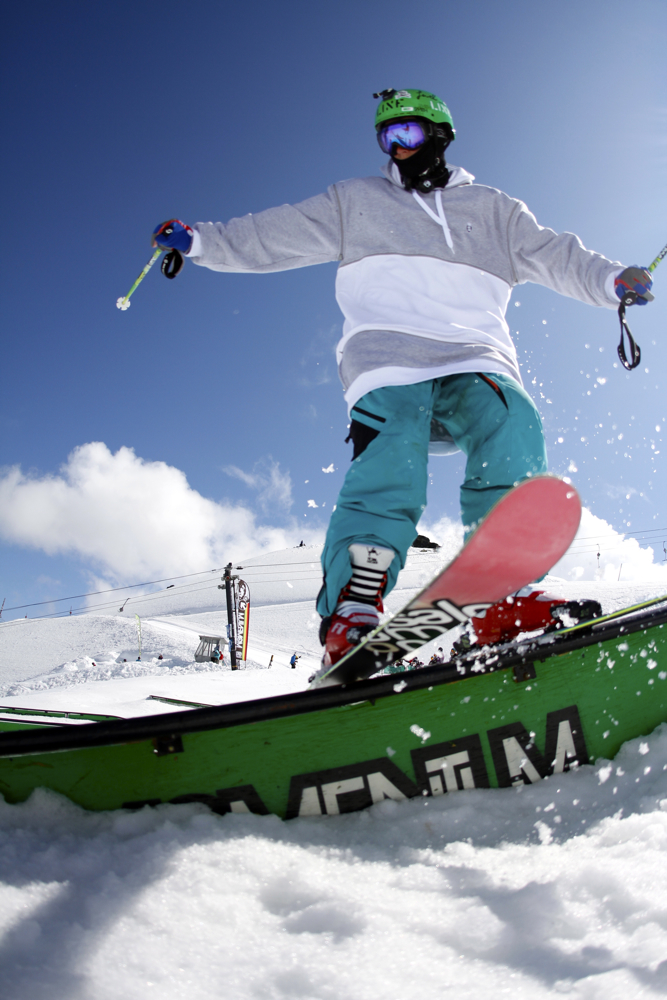 Photo: Hans-Erik Hedberg
Moguls was in full force as well!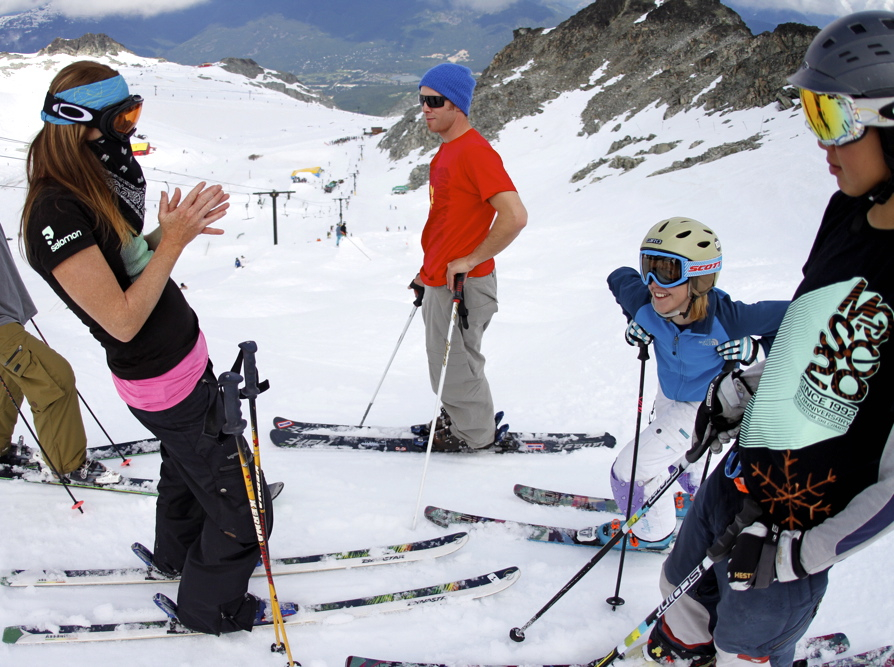 Tami Bradley and Warren Tanner coaching the next generation of Mogul athletes! Photo: Hans-Erik Hedberg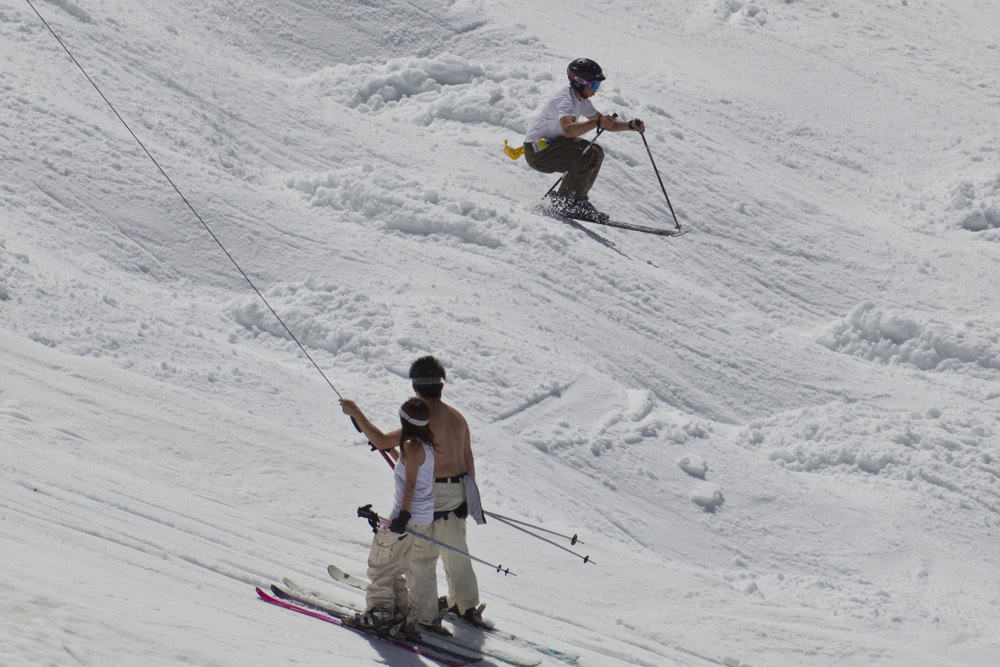 Photo: Joern Rohde
A day in the life of a Momentum Contest Winner…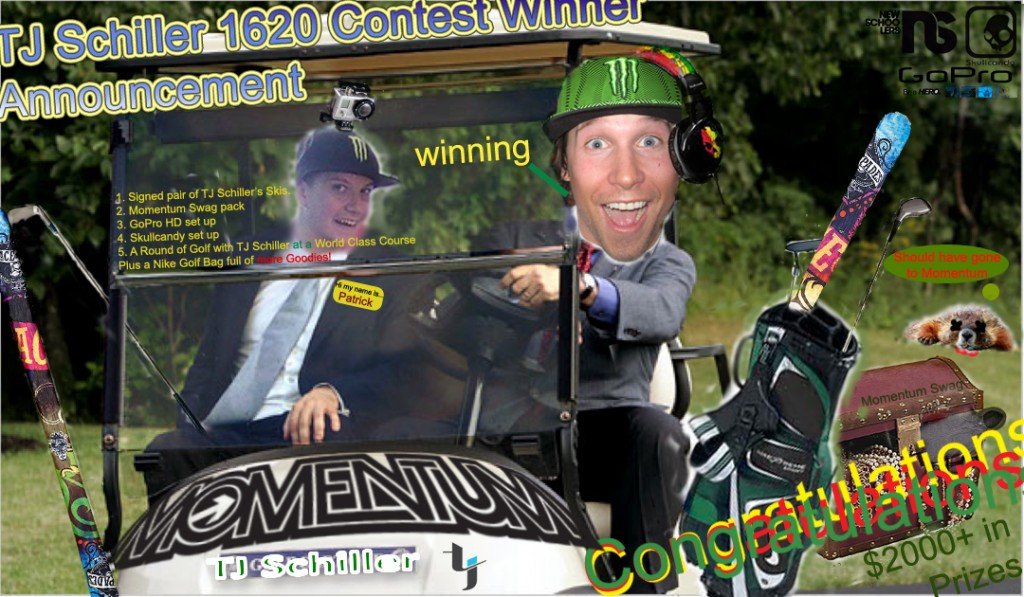 The winner of the TJ Schiller 1620 Contest, Patrick Hughes, was delighted to find over $2,000 worth of swag and TJ Schiller himself when he walked into the office this week!  New pair of Nordica Ace of Spades signed by TJ Schiller, a HD GoPro, a Skullcandy Swag pack, a Nike Golf bag, and bunch of Momentum Swag!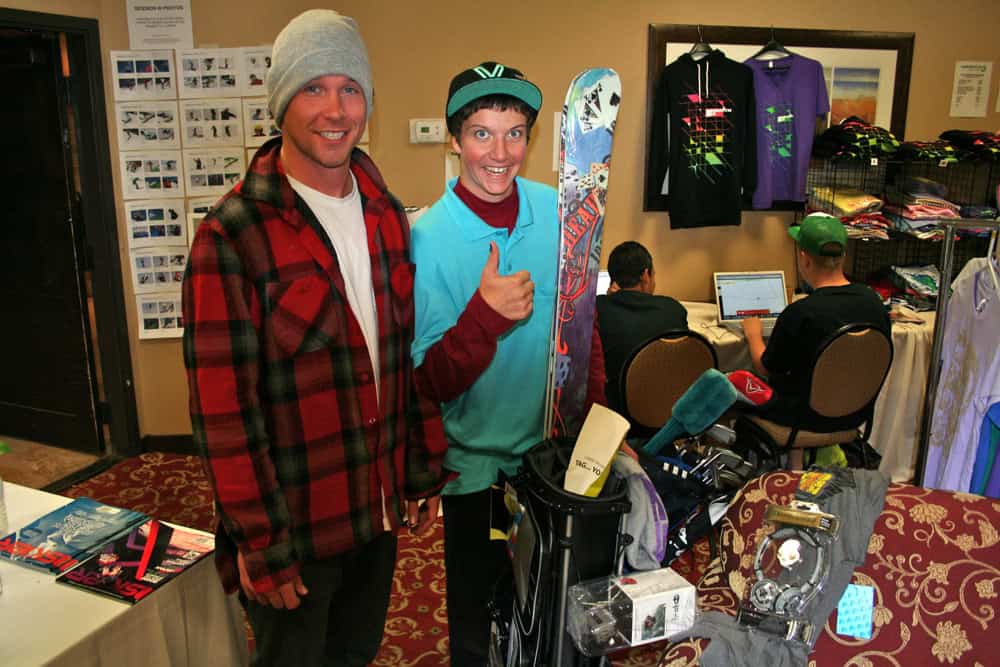 …then they went golfing at the world class Whistler Golf Club!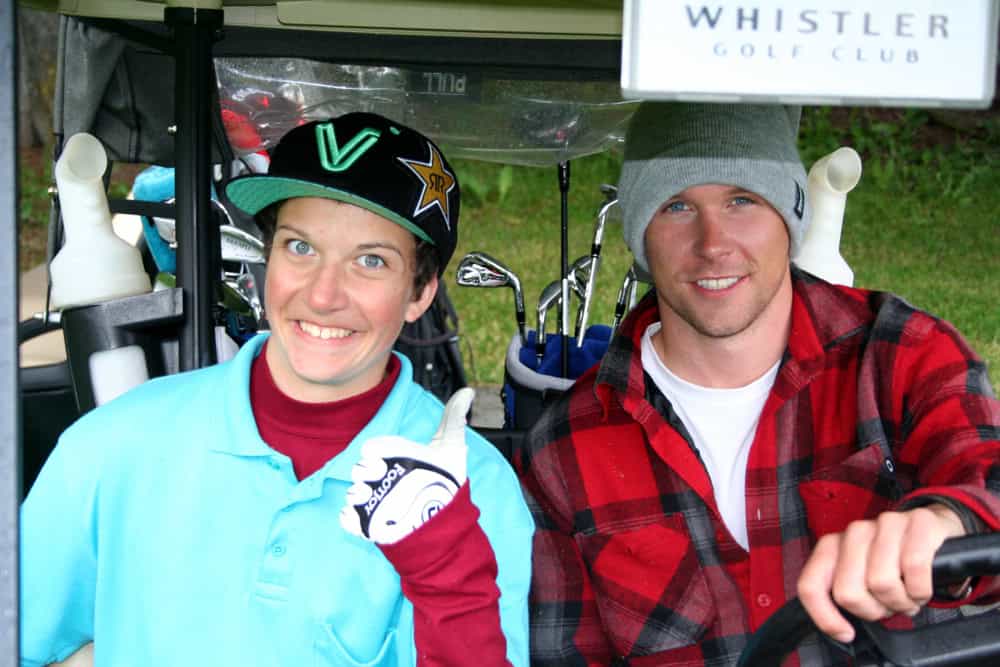 Tim Russell and Patrick's friend Liam Mackenzie joined the two.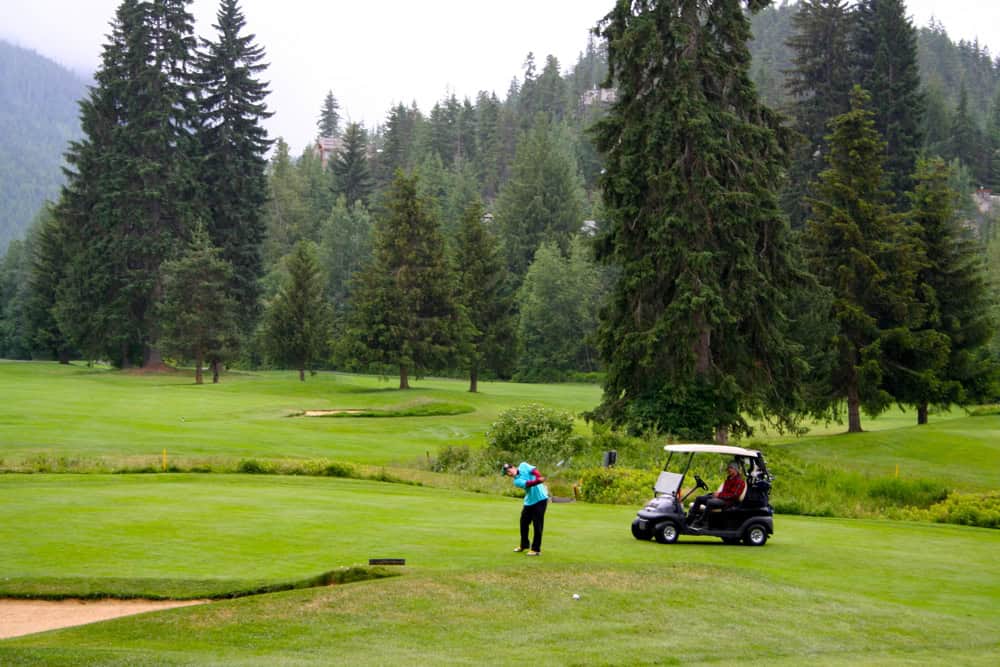 Patrick's approach shot.
…and after a great round of Golf, it was dinnertime!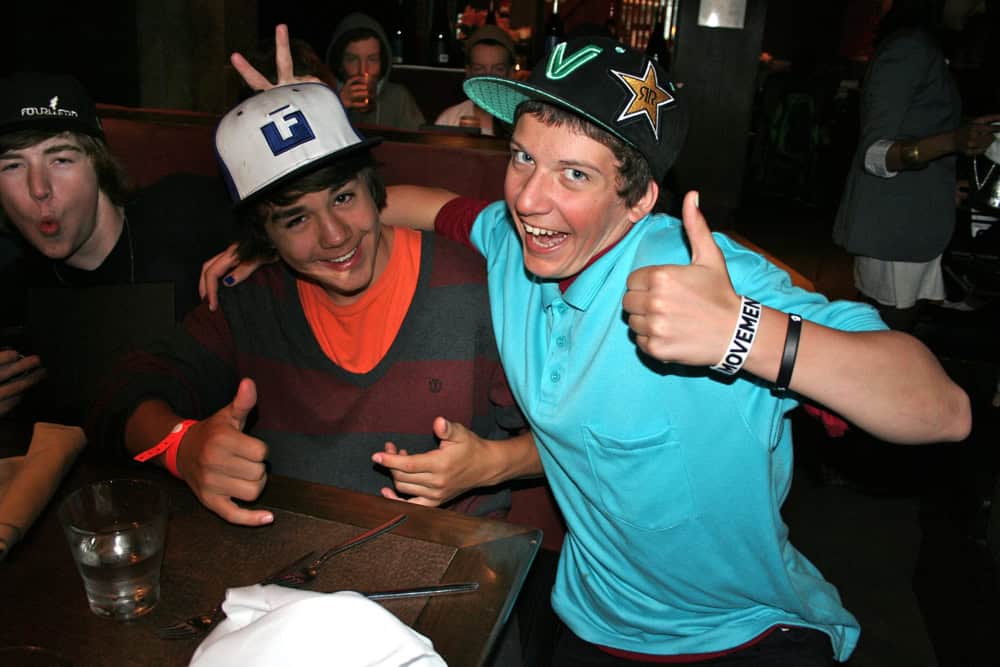 Patrick joined his friend Mark Hendrickson, the winner of the Colby West Comedy Contest(stay tuned for their edits!)
Then the main course of ribs arrived…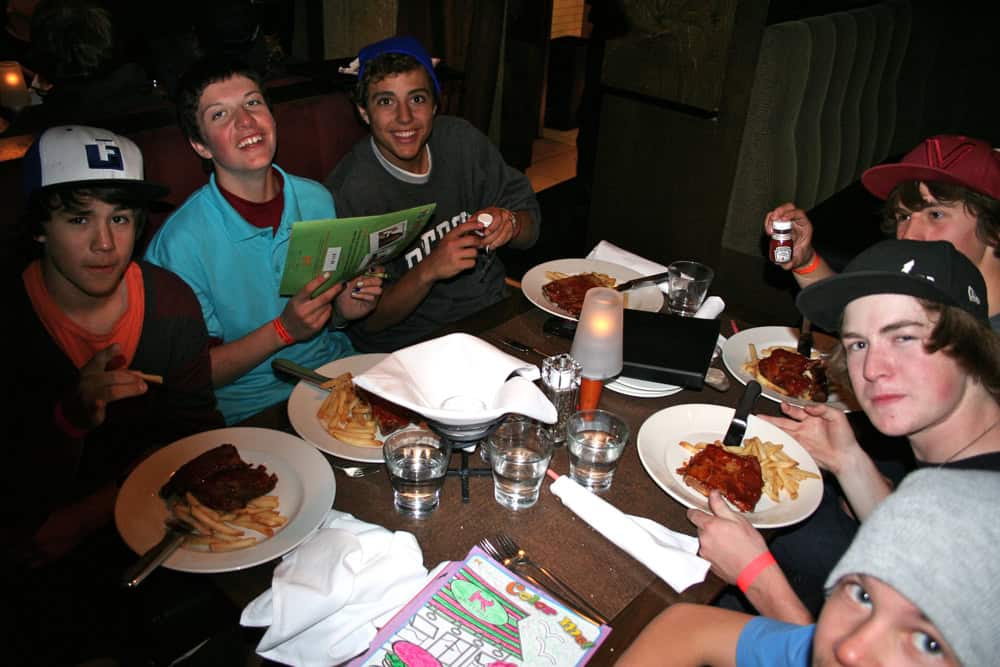 and everyone was extra happy!!!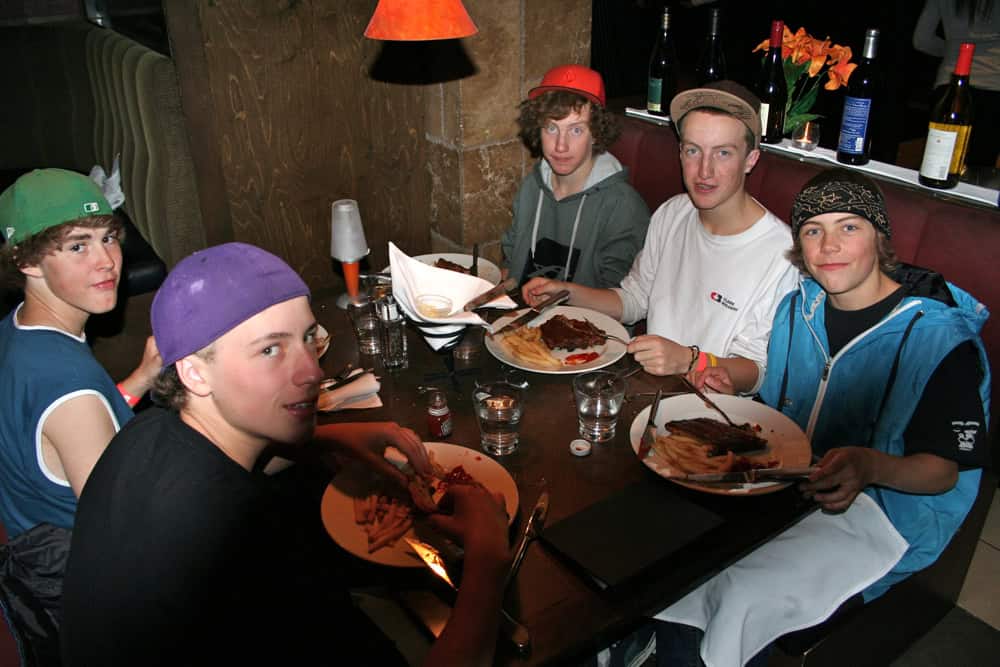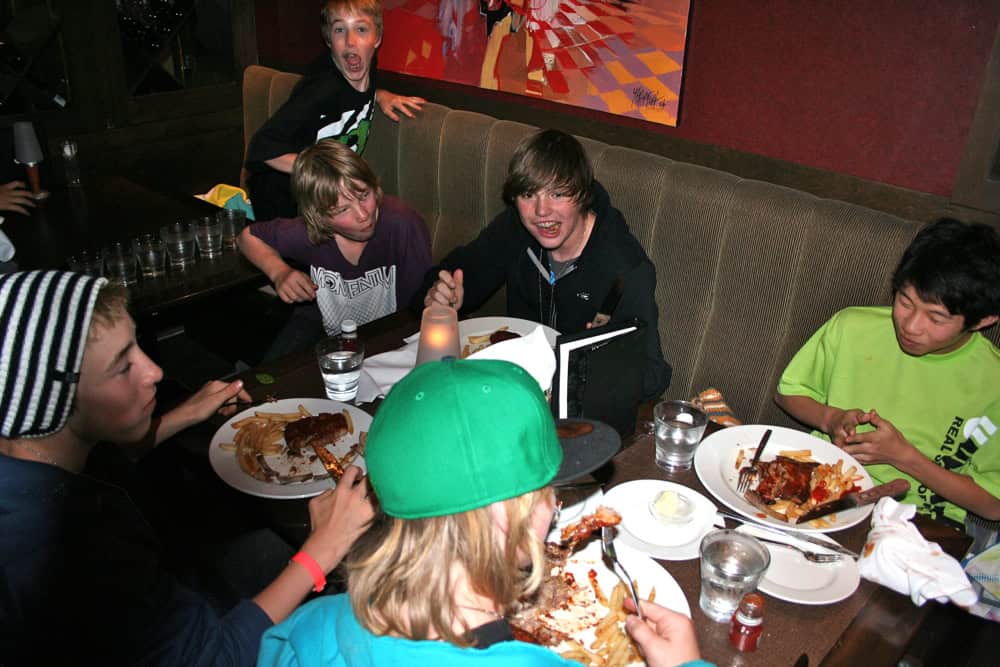 Thanks Ric's Grill, we'll see you next year!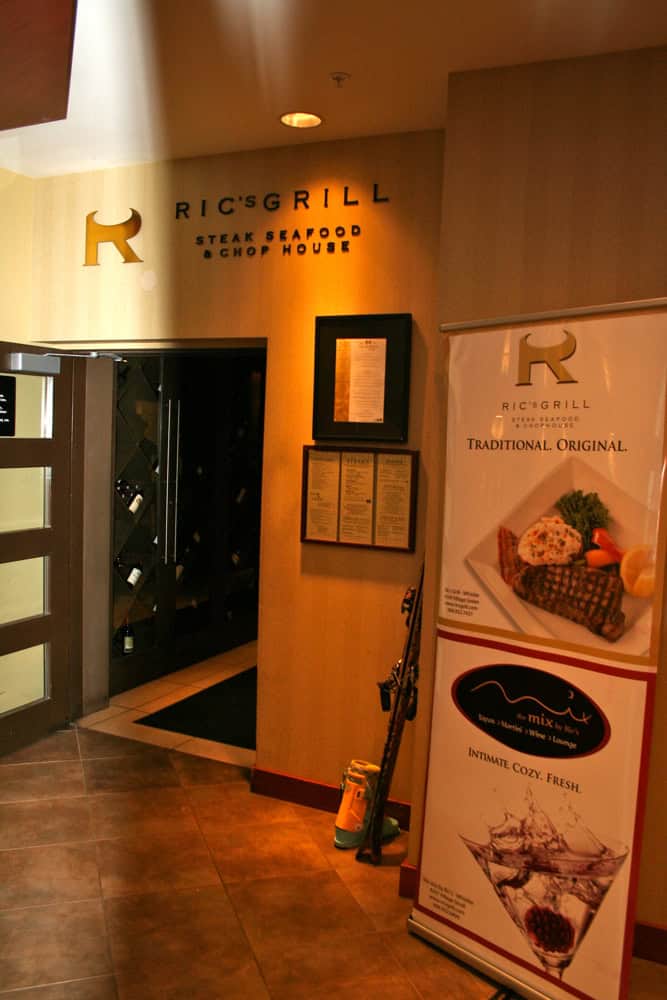 note: campers have to leave their skis at the door…
Wrap – up Party!
The end of the Awards Party was a frenzy with an insane amount of pizza!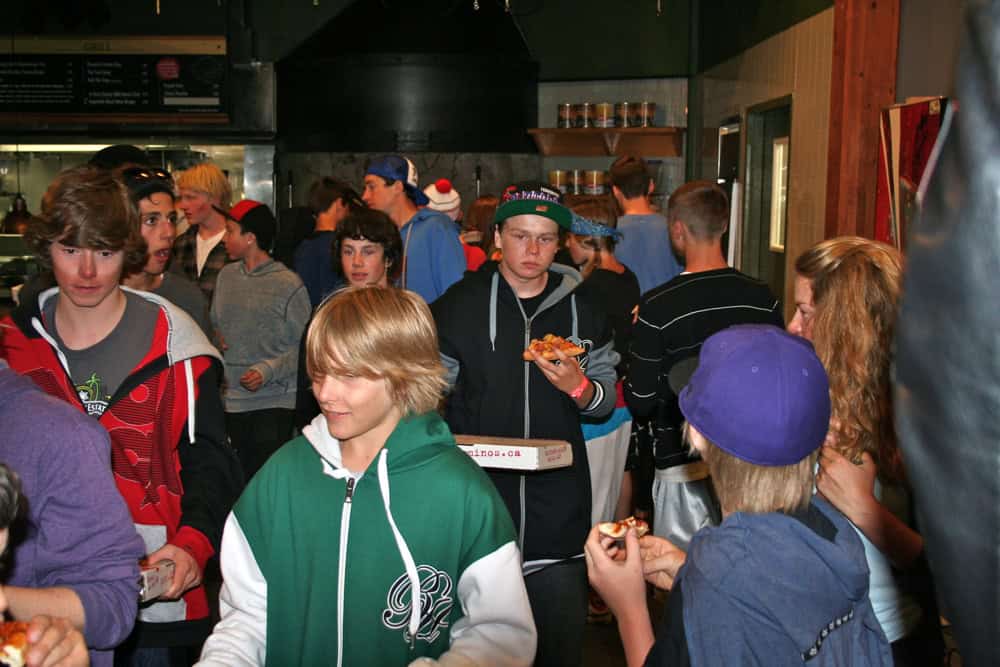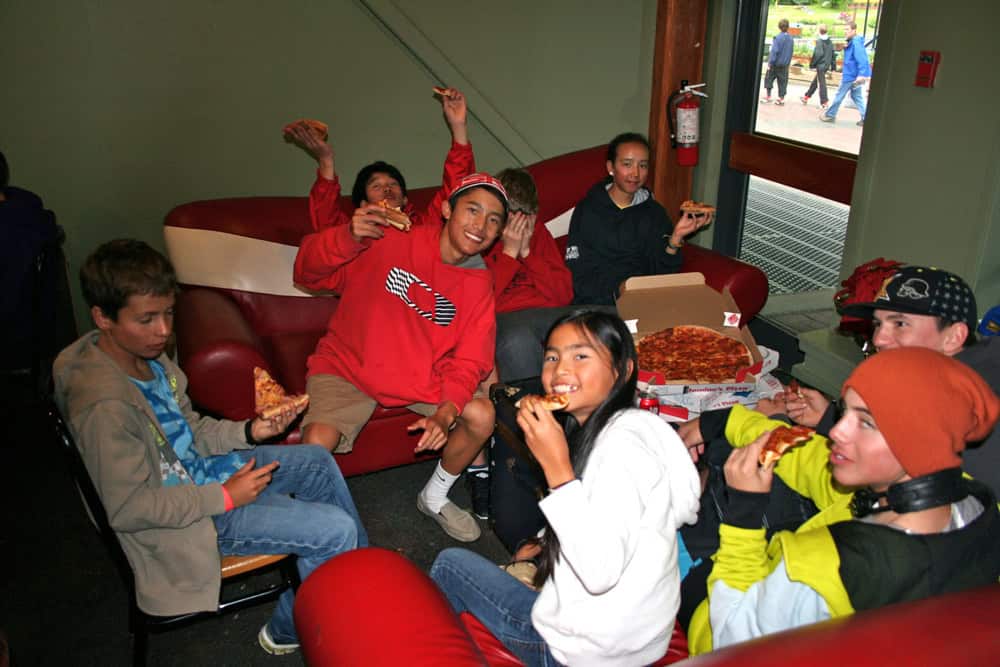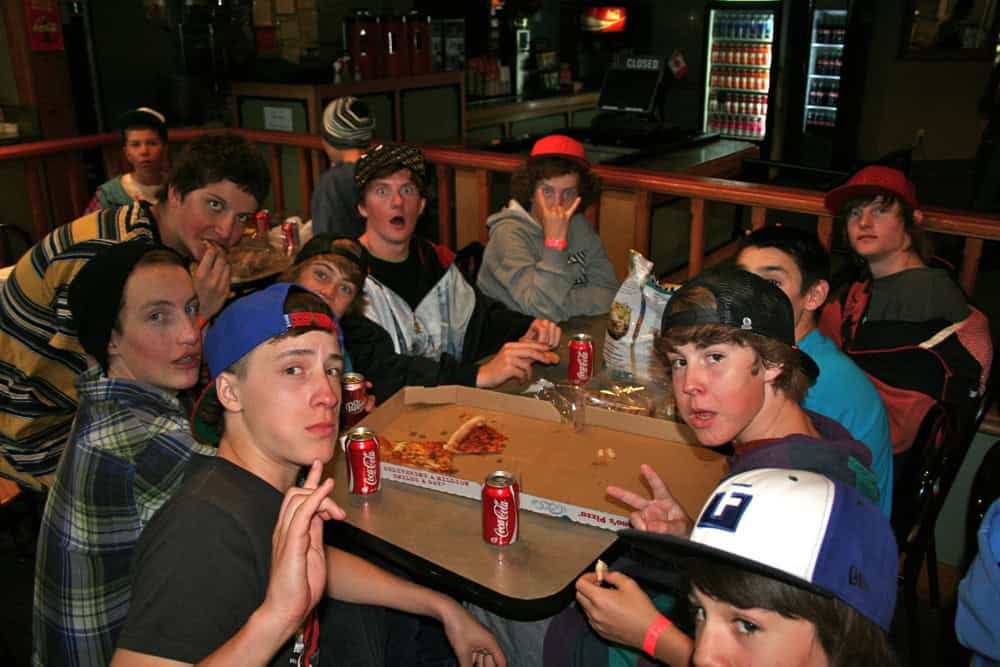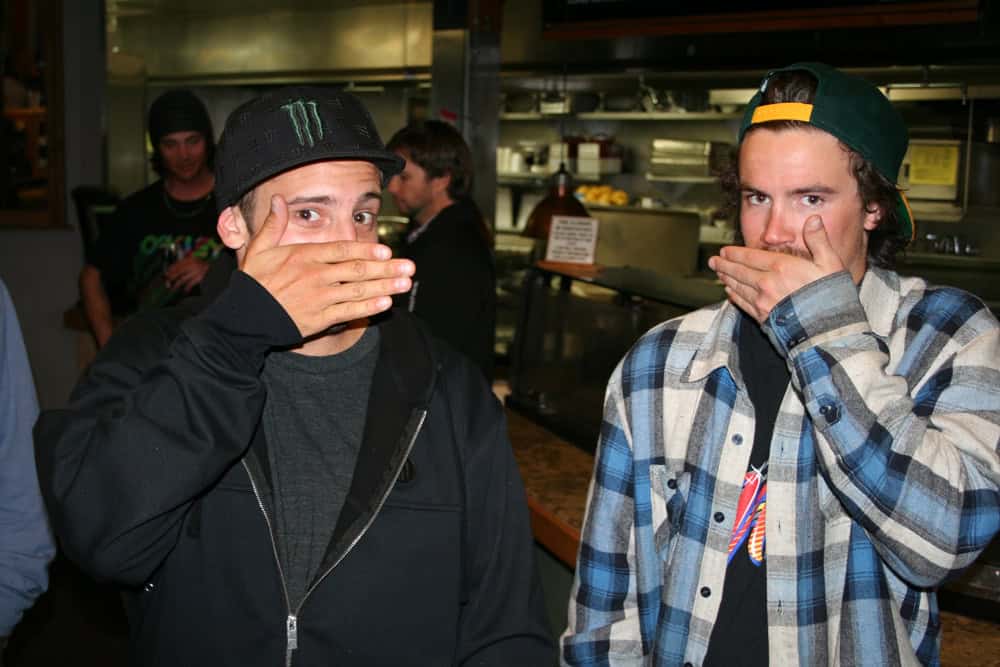 Colby and Henitiuk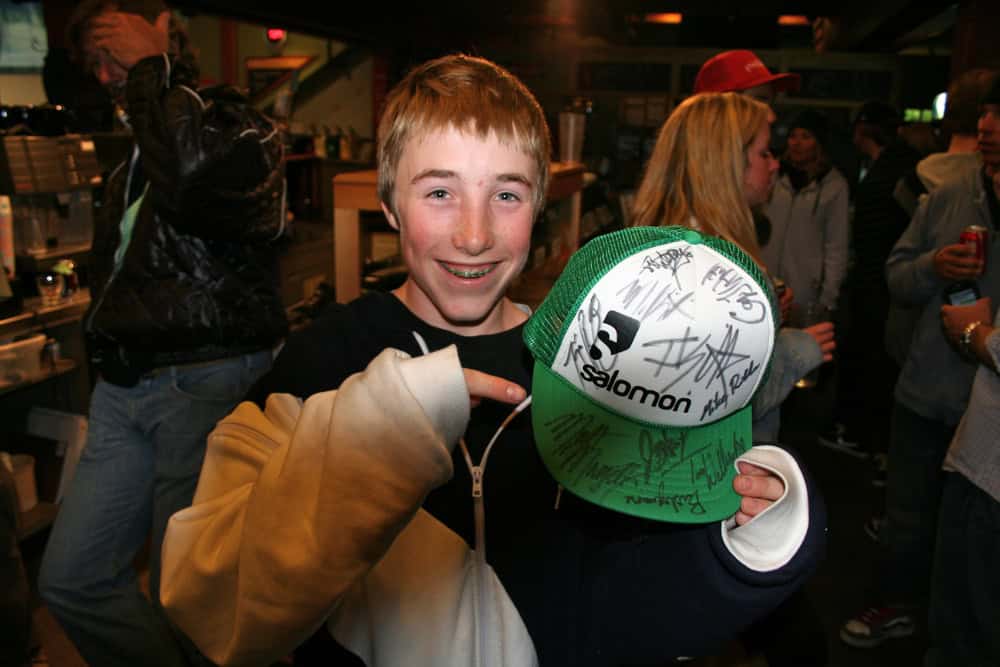 Signatures!!!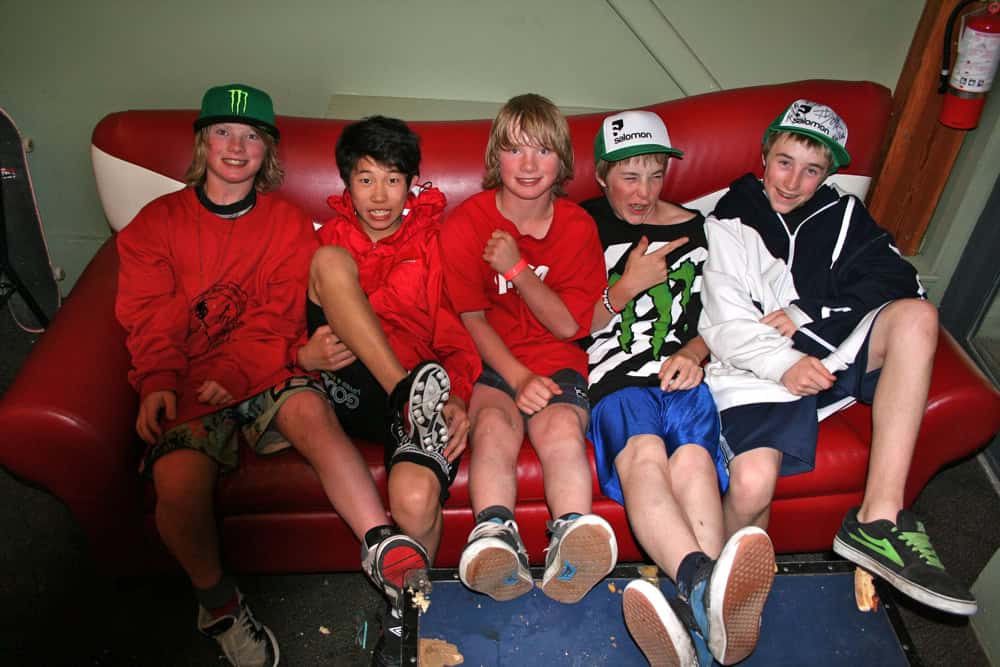 Find the twins….
This session's talent show performances was impressive!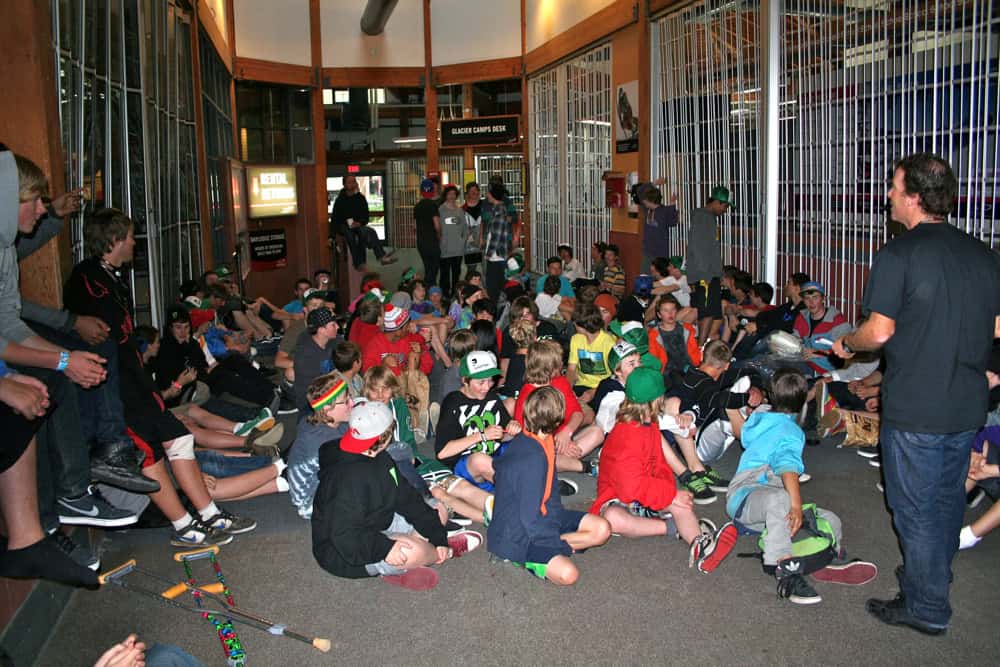 Kicked off by The-One-And-Only Mike Douglas!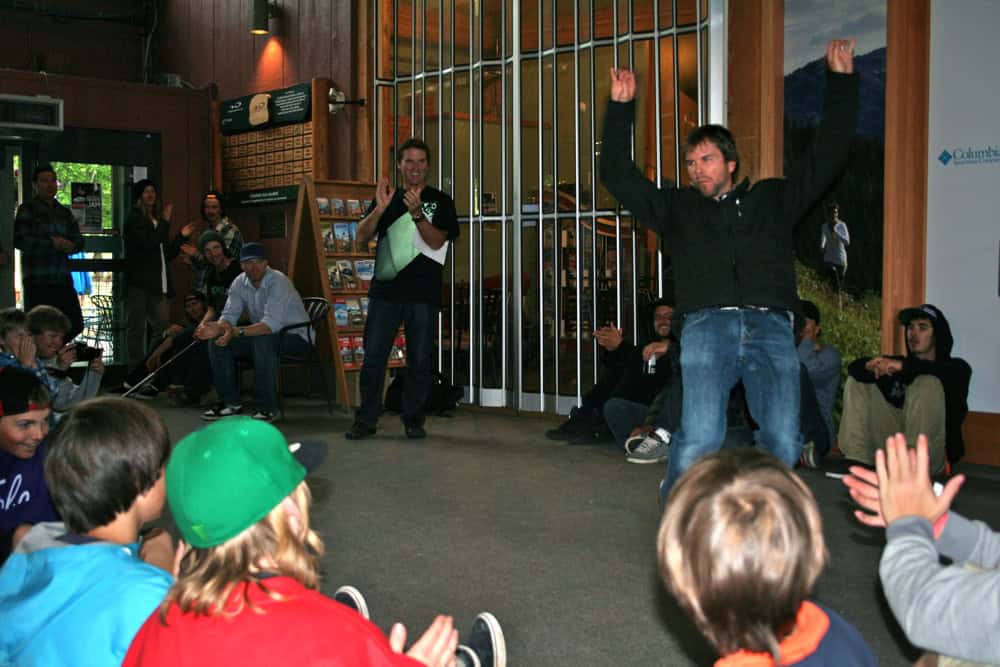 Other acts included; the Crash Skit, an impressive rap duo, the Brice Roll (by Brice Klein himself), flips…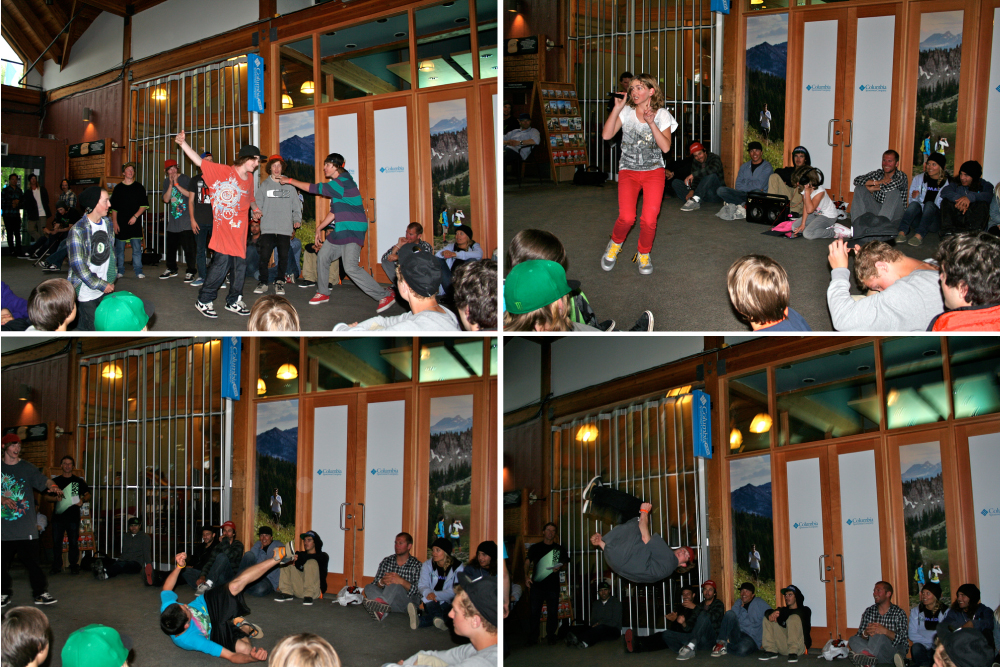 …and a song by Colby, Woodsy and Steve!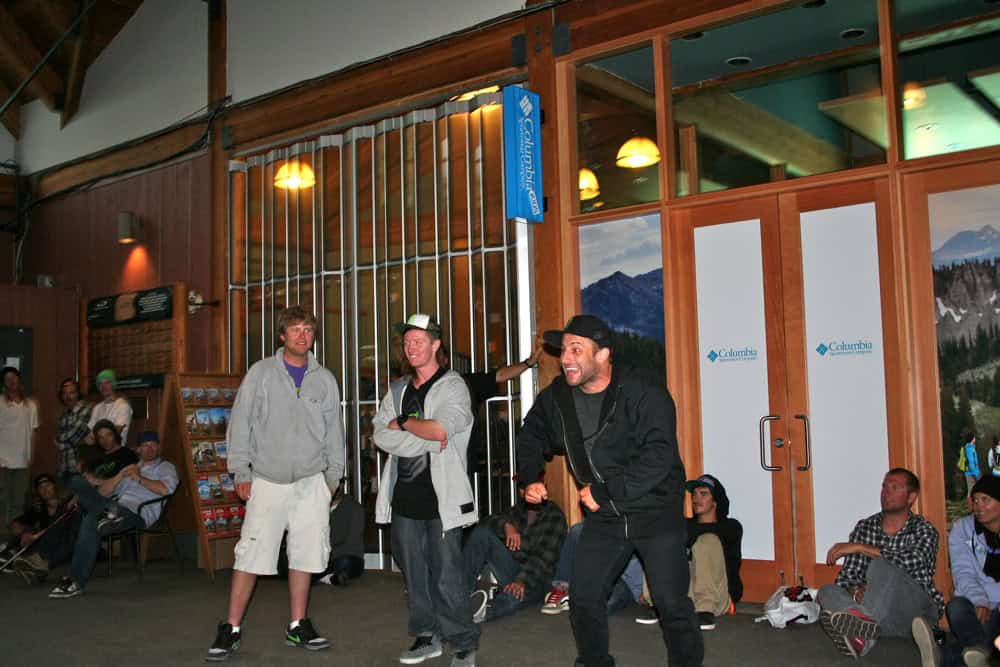 Then it was time for the awards!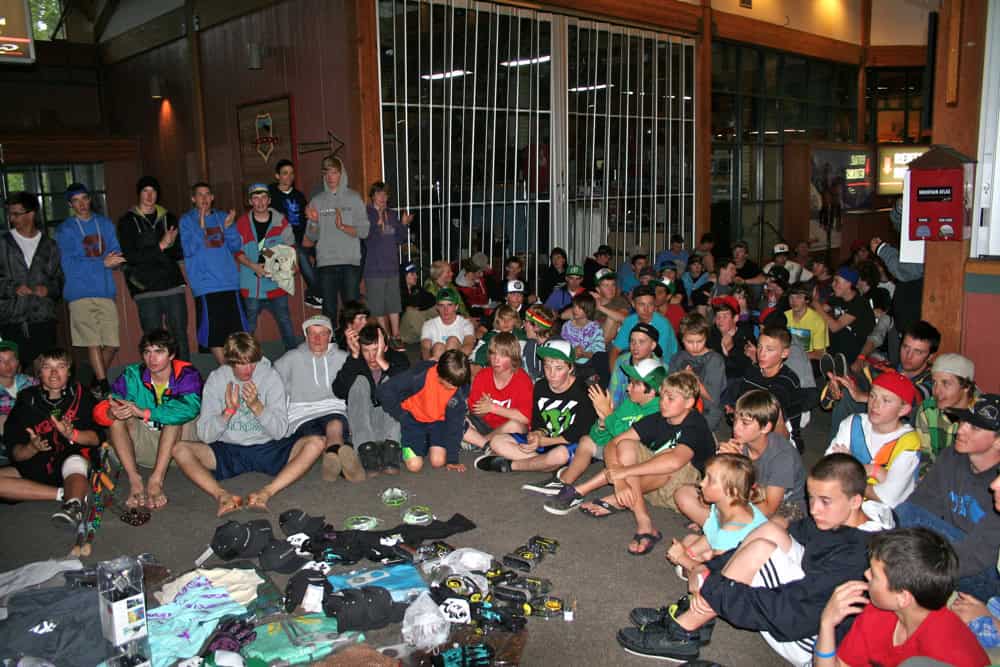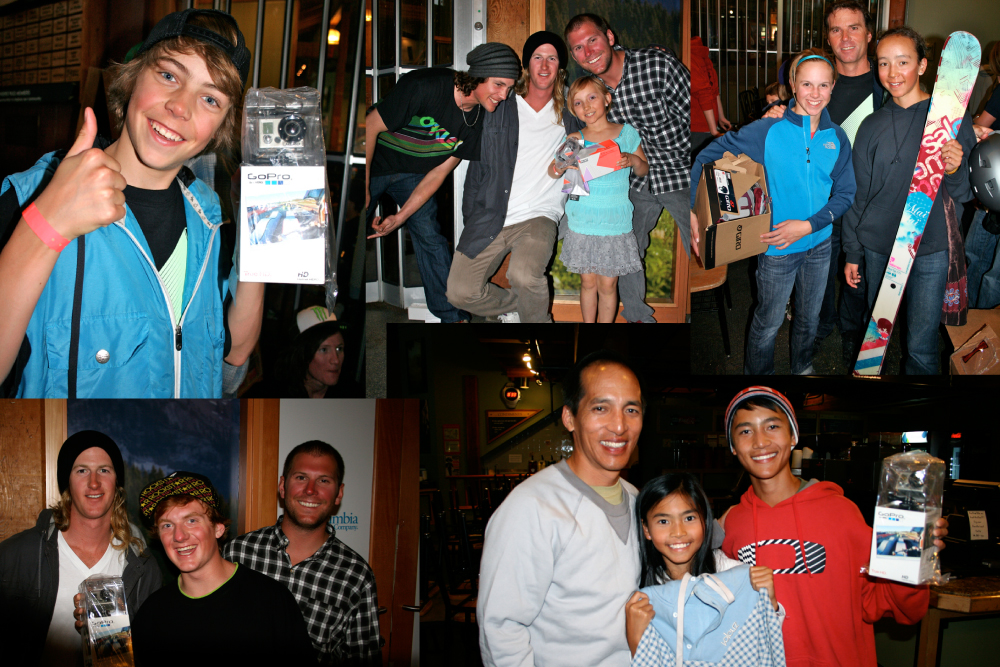 Then came the SkoPrOakley (Skullcandy/Go Pro/Oakley) Challenge.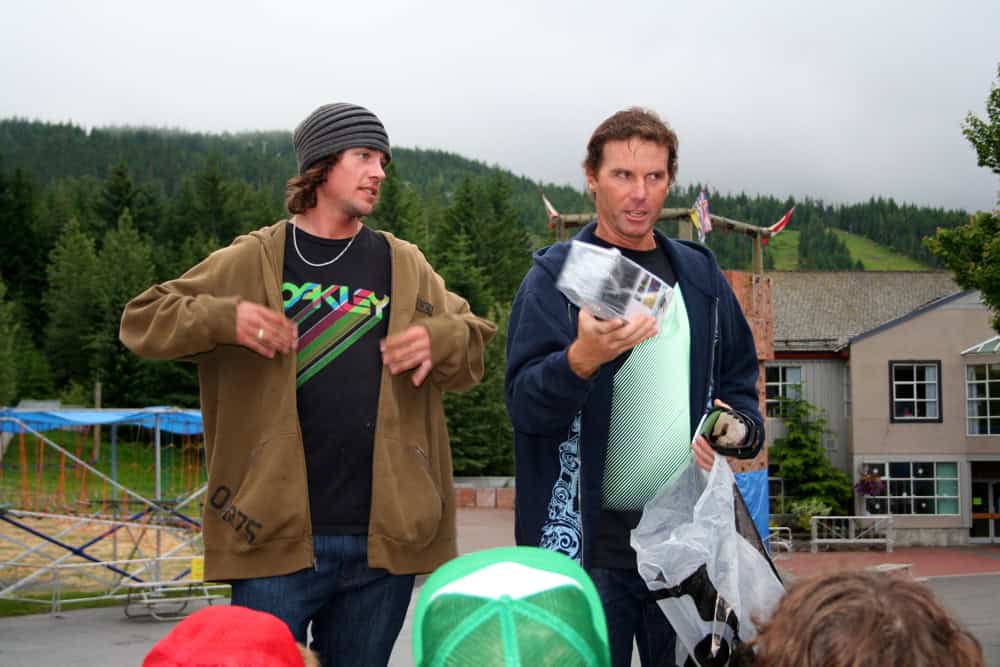 Rory's mastermind Challenge saw…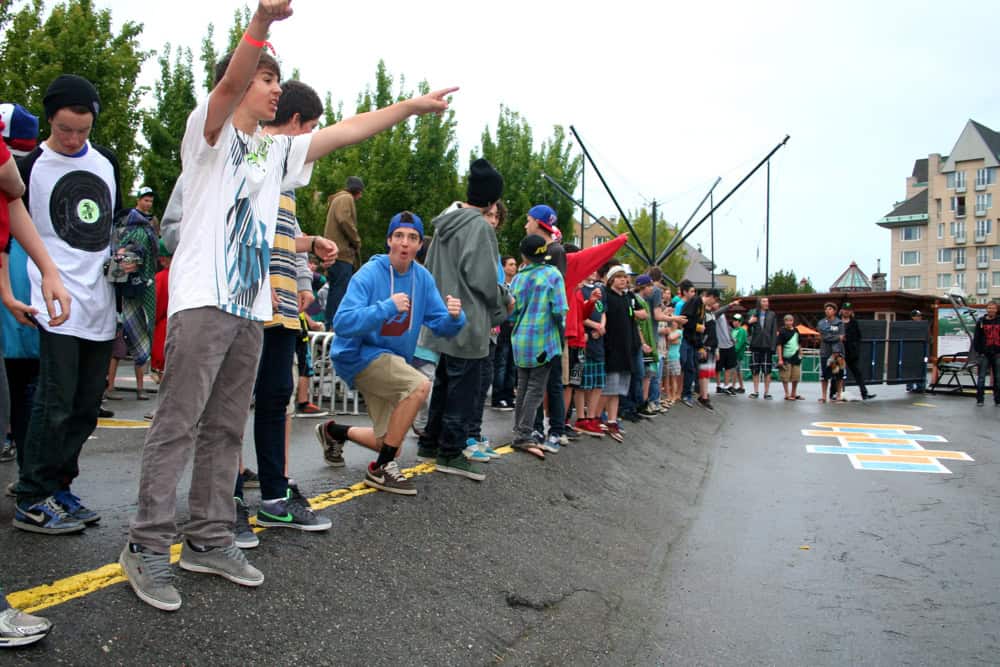 all the campers line up ready to race…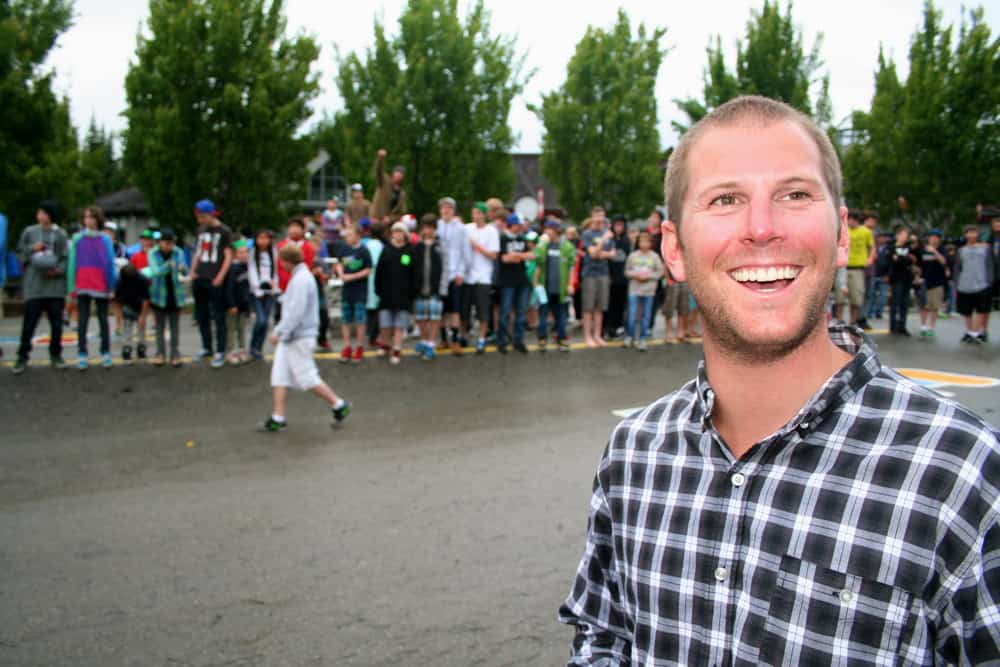 and to Tim Russell's delight…
the race was on!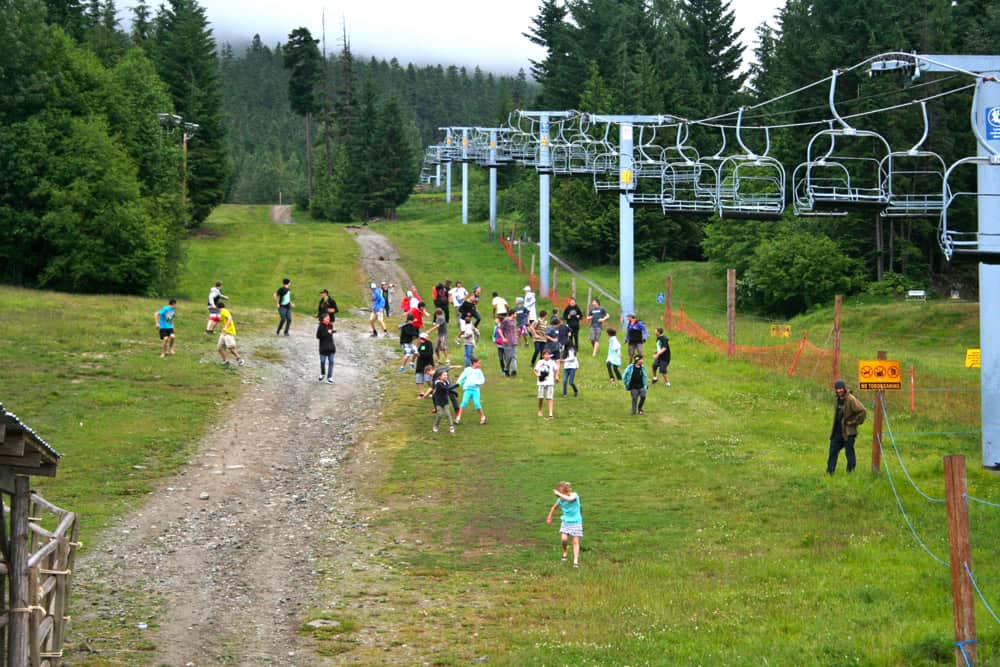 Up the hill backwards to Woodsy at Tower 3…
…onwards to Colby at tower 7 then back down with some log rolls between tower 2 & 3…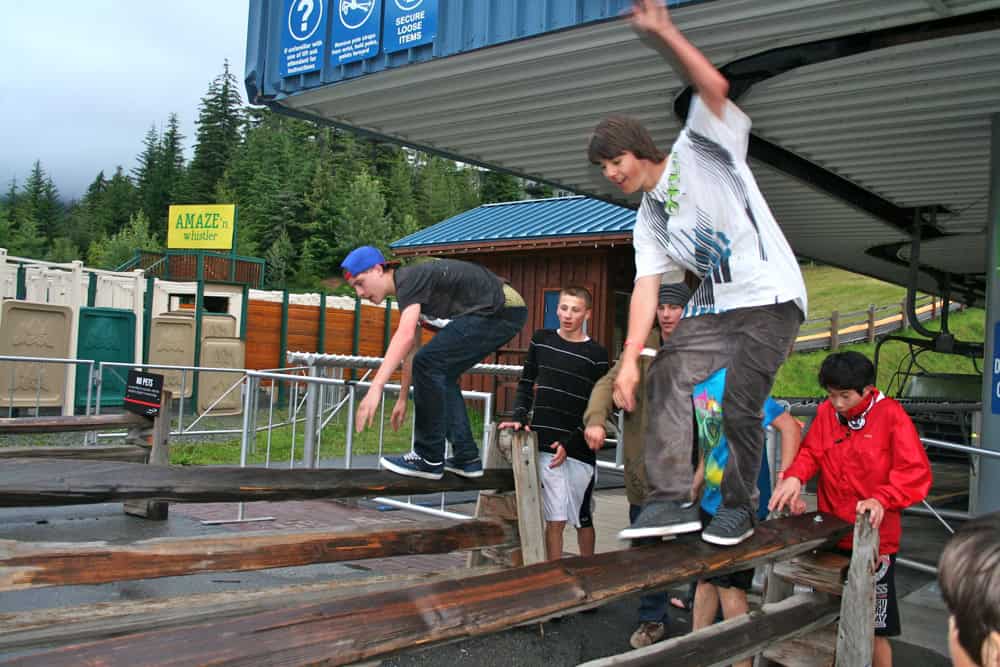 and a balancing act on the rickety wooden fencing…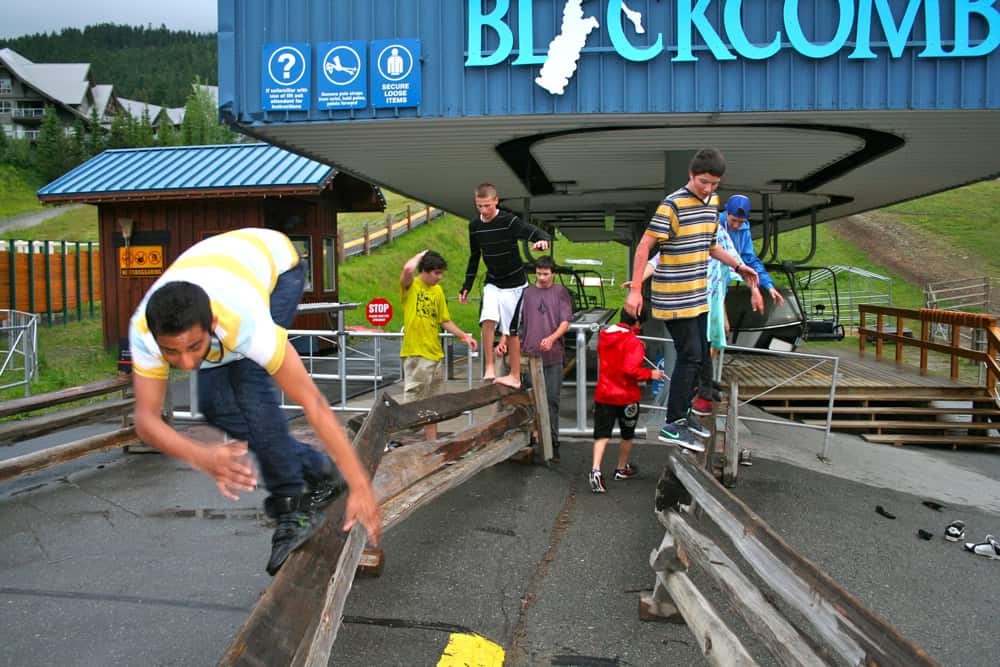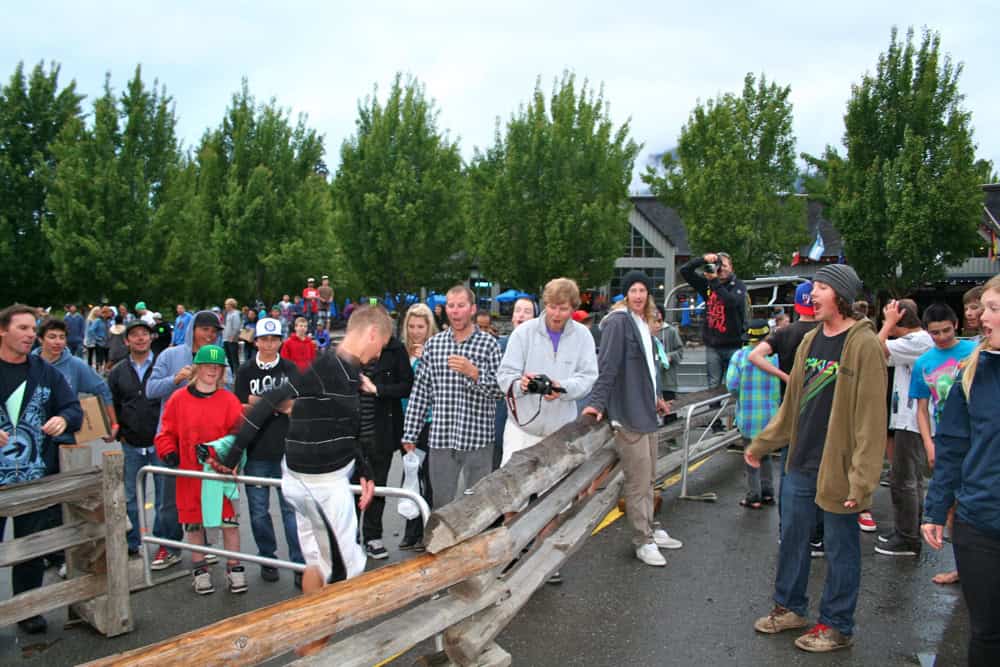 …the first 6 advanced to a challenge of true guts.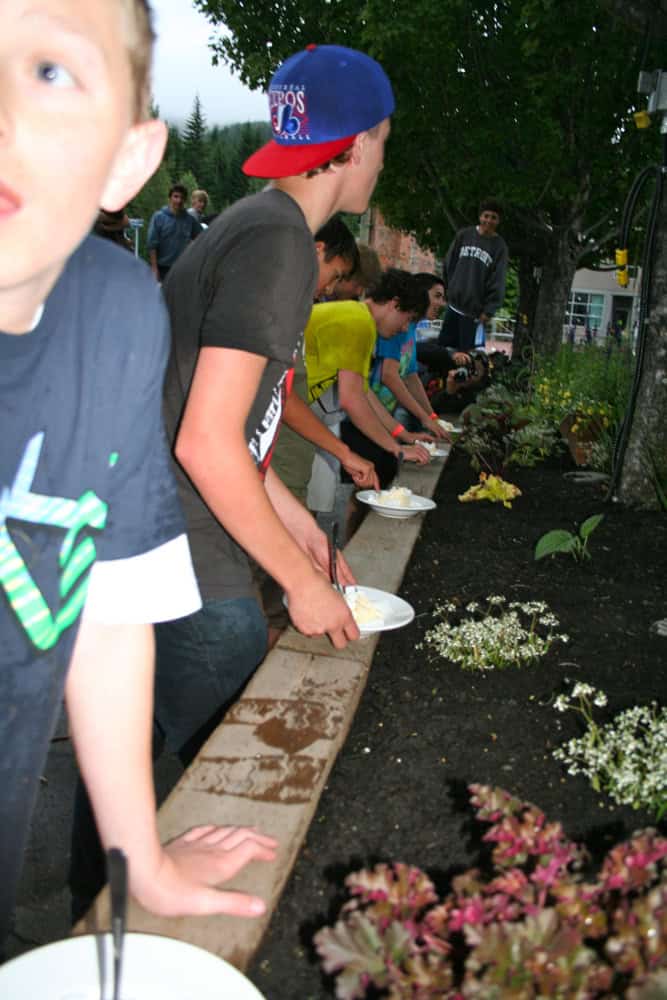 With Brice Klein taking the cake! (Butter & Sugar Cubes)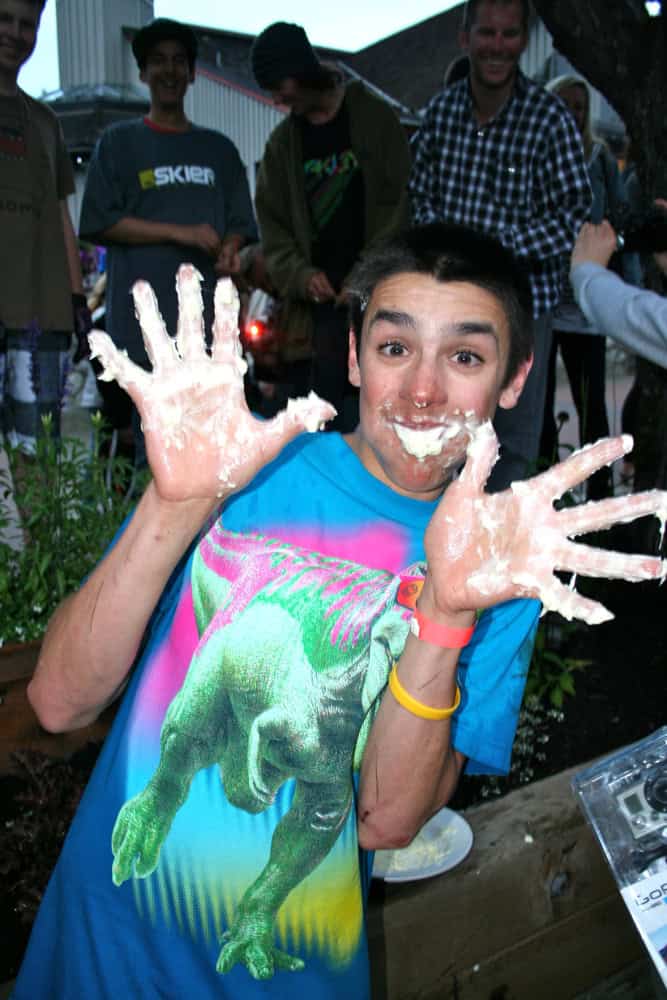 Congratulations Brice!
.
.
.
20 Candles Contests Update:
We would like to congratulate Jesper Norén(from Sweden!) for winning the Oakley Goggle Tan Contest, we'll be sending you a pair of Oakley Splices signed by Simon Dumont!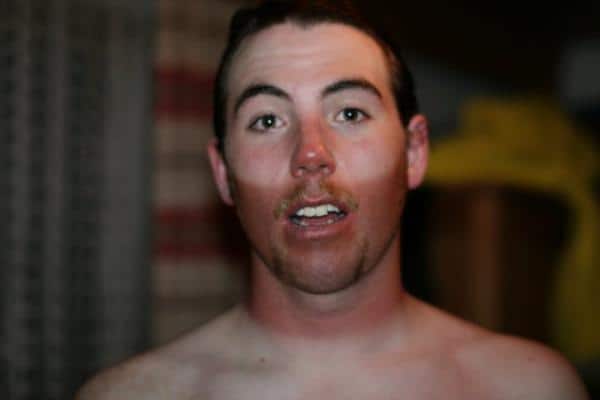 Currently underway is The Soapbox 'Best New Camp Idea' Contest. Going along with our initiative to always improve the camp we want your best ideas for a chance to Win custom Momentum/Skullcandy Headphones and an Ipod Shuffle!

We'll be Discrete-ly announcing our next contest very soon on Facebook!!! So stay tuned!
August 8, 2011