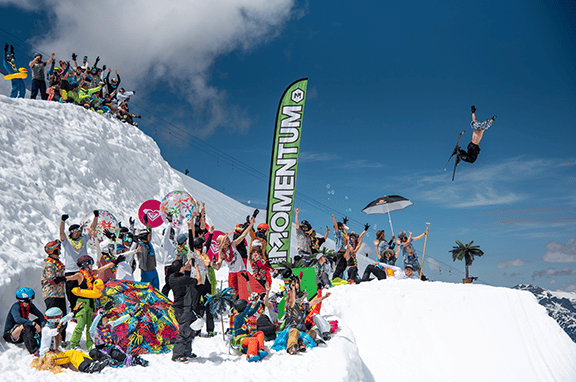 Momentum Summer Camps Cancelled due to Covid-19 crisis
Press Release
June 1st, 2020
Whistler, BC  – Momentum Camps announced today that they will no longer be able to operate their summer camp programs 
this year,
 after receiving official news from Whistler Blackomb that the glacier will remain closed 
due to the Covid-19 crisis
 . 
This would have been Momentum's 29th summer of operations offering Freestyle Skiing, Big Mountain and Snowboard camps from June 12 – July 20th on the Horstman glacier on Blackcomb.
Camp Director John Smart says: "
We are devastated to not be able to offer the camp, which we know gives so much happiness to so many people. We will greatly miss seeing our extended family from all over the world –  all the passionate and addicted skiers and riders, young and old, as well as the many club, regional and national teams working hard towards their Olympic goals and our inspiring coaches, staff and course crew who make it all possible." 
Momentum has been in a holding pattern since mid-March when the mountain closed their winter operations.  Smart says: 
"We had remained optimistic over the past 2 months that we would be able to operate, with Covid-19 safety plans in place, however we understand in these unprecedented times, that we have to accept difficult decisions outside of our control and ensure the safety of our campers, staff and community."
Smart, a former 2 x Olympian himself, says he knows how upsetting this news has been in
 particular to all the Canadian provincial and national teams 
including Moguls, Park, Pipe & Snowboard teams,
 who count on crucial training at Momentum each summer. Canadian Team Head Mogul Coach, Michel Hamelin, 
whose team has been
 training for the past 5 years with Momentum, says that training in Whistler in the summer is ideal for them:
"
Everything is there, skiing, water ramps, airbags, athlete centre and the freestyle community. We look forward to it every year, it's our safe place and it's here in our own country. 
We allocate a large block of time because we get the most volume training and can really build on the foundations of our athletes. 
We are very concerned now as this was our only option for on snow training and depending on the continued restrictions this could be it."
Toben Sutherland, 
Head Coach of the Canadian Big Air and Slopestyle Team,
says: 
"Momentum has always been able to offer us fantastic facilities and a great opportunity to hone our skills on home soil, giving us a real sense of family. We clearly respect the decisions of Whistler/Blackcomb as we do keep the health and safety of our athletes and coaches at the forefront of all planning, but with the Olympic qualifying cycle set to begin this coming winter,  this is a major hit to our preparations and training plans. 
We're looking forward to the day when we all can get back up there and come together as a ski community, just like we have over the last 20 years, helping to build the sport we all love."
Smart has had similar responses from other coaches and many disappointed emails from parents whose kids have been looking forward to the camp all year. He says: 
 "
We had hoped to be the light at the end of the tunnel for them and all our campers, but that tunnel just got a little longer. However 
Momentum plans to be back operating with even more fire next summer when we will be celebrating our 30th year."
June 4, 2020