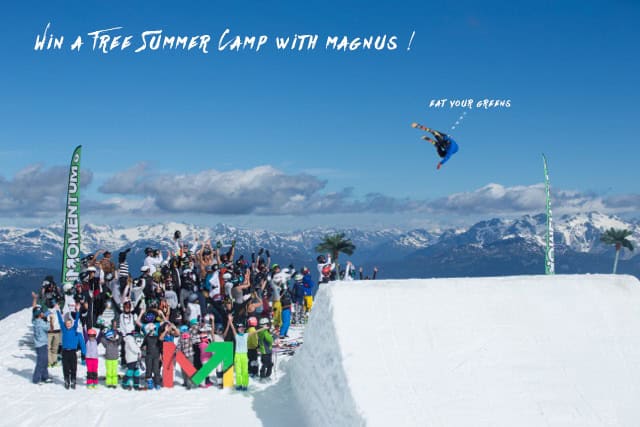 FREE SUMMER CAMPS!
We want to help get YOU to camp. This year we are running three big contests, each with the prize of a free camp. Note, if you have already registered for camp, but win one of the contests, your registration fee will be fully refunded!
1. Win a Free Camp with Magnus
We're joining up with Magnus Granér (aka @skimanguy) to give away a summer session.  To enter, you'll need to send in a ski edit between 1 – 2 minutes long. Magnus will be judging and he'll be basing his decision on pure creativity. He'll be looking for "the flavour of the riders, something unique and someone who brings a different approach.  I want to see creativity, passion and high energy." For more entry details, check here.
2. Spirit of Sarah Scholarship
Every time we see a young girl with enthusiasm, drive and talent we are reminded of Sarah Burke –  herself a Momentum Camper who went on to become one of the most inspirational females in action sports. Once again we are partnering with the Sarah Burke Foundation to award one free Full Package Summer Camp to a female skier, who best embodies some or all of Sarah's very special strengths and characteristics. For more info on scholarship applications, check here.
3. Exposure Camp + Intern Contest
We're giving away the opportunity to join us at Momentum this summer as a film intern. Not only will your Whistler living expenses be paid for the whole summer, but you'll also win and take part in the Exposure Camp (Session 4) as a camper. To enter you will need to show off your skills by creating a 60- 90 second edit that profiles your favourite local ski hill character. See details here.
We're breaking records – last year was our largest camp to date!  And spots are filling up faster than ever this year.
Ski in a T-shirt, land on soft snow and learn new tricks on airbags, water ramps and trampolines. Hang out with your ski heroes and make new friends with like minded buddies from around the world. But don't wait too long, as camp space is becoming limited.
March 14, 2019